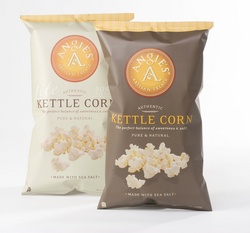 Breaking into a market where the official state snack food is popcorn is a huge opportunity for us to win the hearts - and taste buds - of Chicagoans
North Mankato, MN (PRWEB) May 26, 2010
Chicagoland, meet Angie's…and be prepared for love at first bite. Angie's Kettle Corn, a tasty, all-natural snack sensation produced in the Midwest, today announced that its Original and Lite-flavored bagged kettle corn will be readily available in the snack aisles of Jewel-Osco, Super Target, Whole Foods and other Chicagoland grocery retailers June 6.
"Breaking into a market where the official state snack food is popcorn is a huge opportunity for us to win the hearts - and taste buds - of Chicagoans," said Dan Bastian, co-founder and president, Angie's Kettle Corn. "Entering the Chicago market is, as we like to say, a real 'pop-ortunity' as Chicago is a major metropolitan market and an important milestone for our growth as a company."
Chicagoans unfamiliar with Angie's Kettle Corn can expect a quality product that delivers the perfect balance of sweetness and salt to satisfy their cravings on both ends of the snacking spectrum. Handcrafted in small batches and in real kettles, Angie's Kettle Corn is made from four simple ingredients: popcorn, corn oil, cane sugar and sea salt. Compared to other snack foods, Angie's is a healthier snack choice that is Kosher certified and gluten-free. It has no cholesterol, no trans fats, nothing artificial.
Rising in the ranks as one of Minnesota's favorite, family-owned, entrepreneurial success stories led by founders Angie, a nurse practitioner, and Dan Bastian, a former high school teacher and baseball coach, Angie's Kettle Corn has turned up the heat on its expansion and growth in the snack food category.
Angie's Kettle Corn is known for its ingenious marketing efforts, as the Bastians secured official sponsorships with most of Minnesota's major professional sports teams (Minnesota Vikings, Minnesota Timberwolves and the Minnesota Twins). It's no surprise that Angie's has been able to grow from an outdoor event, mobile kettle corn popper to a popular pre-bagged snack pick with its own wildly passionate fan base, as illustrated on the brand's Facebook page -http://www.facebook.com/angieskettlecorn. Additionally, the Angie's team will be taking the product to the streets to expand that fan base through a city-wide sampling program during the month of June and over the July 4th weekend.
"We're thrilled to share our delicious snack with our neighbors in Illinois," said Angie Bastian, co-founder and namesake of Angie's Kettle Corn. "Our goal and philosophy has always been pretty simple: create a great-tasting product made with the best ingredients, that is as fun to serve as it is to eat. We invite Chicagoans to give it a try."
Editor's note: Find Angie's on-line press room complete with product shots, company facts and bios at: http://angieskettlecorn.com/category/news/
About Angie's Kettle Corn
Husband and wife entrepreneurs Dan and Angie Bastian founded Angie's Kettle Corn in 2001. Angie's humble beginnings were as a small family outdoor vendor operation. Today Angie's has increased in sales and popularity moving the operation from outdoor festivals and events to a new manufacturing facility and expanded regional distribution channels. Angie's is the official kettle corn of the Minnesota Vikings, Minnesota Timberwolves and Minnesota Twins, and can be found in 35 states via: SuperValu owned grocery stores, Costco, Hy-Vee, Lunds/Byerlys, Kowalski's, SuperTarget, Whole Foods, and other food stores across the region, as well as at http://angieskettlecorn.com/
.
###