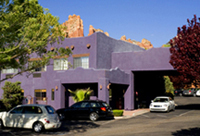 It's not enough anymore to have a hotel with great rates and views. You also have to demonstrate you care. Independent operation gives us the flexibility to offer special amenities for our guests which will give them a memorable and treasured experience.
Sedona, AZ (PRWEB) May 26, 2010
The Kings Ransom Inn is proud to announce it is following in its sister-hotel's footsteps, becoming an independently operated Sedona hotel. The two family-owned hotels, the Kings Ransom Sedona Hotel and the King Ransom Inn, were originally part of the Choice hotel chain, but are now independent family-operated. Amy Bertorelli, President, put it this way, "Hotel chains tend to do a good job of setting basic standards, but we strive to go beyond simple standards and offer our customers special luxuries and those little extra details that most people really treasure in a hotel experience."
The original Kings Ransom Hotel was built in the 60's and was one of Sedona's very first hotels. The Kings Ransom Inn was built next door in 1996 to take advantage of this prime central location in Sedona. Both Sedona hotels appreciated the benefits of franchise operation for many years. But, when Amy Bertorelli took over operation of the hotels in 2005, she began a major renovation, including the grounds, lobbies, and room interiors. Further, customer service was defined as the primary goal.
In 2007, the Kings Ransom Sedona Hotel added a new restaurant which quickly became the Number One restaurant in Sedona, and also highly rated throughout Arizona. "When I met Jeff Smedstad, the chef/owner of Elote Café, I knew we had a competent and creative chef. He had a great track record in Phoenix and Atlanta, so we gladly gave him the opportunity to open in our hotel, and we have never looked back. He has developed a spectacular restaurant with gourmet Mexican food that compliments our hotels, which was our goal. However, he has gone beyond even our fondest hopes! Guests who stay in our hotel rave about the food and feel lucky to have found Elote Café!"
Both Sedona Arizona hotels have gone through extensive renovation and upgrades, including the gardens and outdoor pool/spa areas. The Kings Ransom Sedona Hotel adopted a pet-friendly policy so guests and their pets can now take pleasure in 8 acres of beautiful landscaping, in addition to panoramic red rock views and nearby hiking trails.
As an independent operator, Amy Bertorelli's commitment to the environment and preserving the timeless beauty of Sedona was set in motion in 2009 when both Sedona hotels were the first in Sedona to be "Green Suites" certified.
''We are celebrating our independence all summer long.'' said owner Amy Bertorelli. "We are running Sedona hotel deals and vacation specials for both hotels through Twitter, Facebook, our websites, and our e-newsletter. We will continue to offer our guests a unique and satisfying experience we could only achieve with our independence!"
The Kings Ransom Sedona Hotel and the Kings Ransom Inn offer affordable hotel accommodations and vacation packages in Sedona, Arizona. For more information about the Kings Ransom Inn, please call toll-free (877) 480-0044. For more information about the Kings Ransom Sedona Hotel, call toll free 1-800-846-6164 or visit http://asedonahotel.com and http://www.kingsransomsedona.com.
###