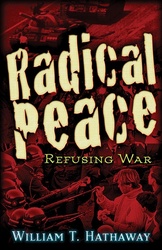 We've moved beyond demonstrations and petitions into direct action
Walterville, OR (Vocus) May 27, 2010
What drastic measures will people take to stop the cycle of violence America's recent wars have created? In Radical Peace: People Refusing War, the recently released book by TrineDay Books (http://www.trineday.com), author William Hathaway recounts the stories of a number of war resisters, many of whom who have taken extreme measures in their actions.
A European group helps a soldier desert from the Army. A priest becomes a military chaplain in order to promote peace. One young recruit becomes a Buddhist during training and simply walks away. These and other even more desperate stories illustrate what happens when the thought of continuing on the present course becomes unthinkable. This is the point when, for the storytellers in this book, radical action is necessary, even if it results in great personal sacrifice.
"We've moved beyond demonstrations and petitions into direct action", Hathaway states. "We're defying the government's laws and impeding its capacity to wage war".
Radical Peace: People Refusing War tells the sometimes touching, sometimes defiant and always interesting first-person stories of people working for peace in unconventional ways.
William Hathaway is a former Special Forces soldier and author whose works have appeared in over 40 publications, from Humanist to the Los Angeles Times.
TrineDay Books grew out of a consistent refusal of larger publishing houses to print books of a controversial nature. It is now one of the leading publishers of "inconvenient truths" in the US.
###