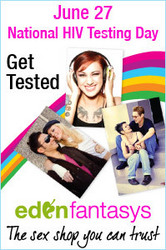 helping many, one by one
Monroe Township, NJ (Vocus) May 25, 2010
Until the end of May, every new Twitter follower or Facebook fan of ASCNYC earns the organization a $1 donation, up to $3,000. It's just one way EdenFantasys is helping raise awareness with mobilized its considerable social media umbrella. ASC maintains three profiles (ASCNYC, SaferSexASC, ASC_Harlem). Earlier this month, EdenFantasys sponsored raffle prizes for an ASC bingo fundraiser, and will be providing an auction basket and sponsoring the upcoming annual Safer Sex In The City party in June. SexIs Magazine and Eden Café will continue to feature articles related to ASC, including a SexIs piece covering this week's ribbon-cutting ceremony for the Keith Haring ASC Harlem Center. Later in the summer, Eden and ASC will team up at BlogHer for a safer sex arts and crafts party.
AIDS Service Center NYC (ASC) is a one-stop community resource for people affected by HIV and AIDS, offering HIV testing, treatment and care to New Yorkers in need. ASC serves more than 2,600 people affected by AIDS each year. ASC carries out its mission of "helping many, one by one" by building community, connection and stability for New Yorkers living with and at risk for HIV/AIDS. Their comprehensive programs include state-of-the-art peer education and training, harm reduction, specialized women's services, HIV counseling and testing, mental health services, medical and holistic care, case management, support groups, and many other innovative programs that help New York City's most vulnerable individuals and families to survive and thrive in the face of HIV/AIDS.
EdenFantasys.com is a community-based adult retailer. EdenFantasys.com takes great pride in its thriving sex-positive community; real people sharing their knowledge and experiences through posts on the very active forums, and in their personal reviews of thousands of adult products. Additionally, EdenFantasys also hosts SexIsMagazine.com; featured columnists include Nina Hartley, Buck Angel, The Bloggess, Midori, Rachel Kramer Bussel, and more. Eden also has a community-based blog, EdenCafé.com, which highlights the thoughts and interests of the adult product consumer.
Previously, ASC and Eden worked together on the World AIDS Day Project, a week dedicated to AIDS/HIV education and fundraising on SexIs Magazine, EdenFantasys.com, Twitter and Facebook, which resulted in Eden donating $1,000 to ASC. The World AIDS Day Project was a great success and will continue with a second installment in December of this year. There was also a wonderfully engaging community interview hosted on Eden with the Executive Director & CEO of the AIDS Service Center NYC, Sharen Duke. Both ASC and EdenFantasys are proud to continue their work together.
###