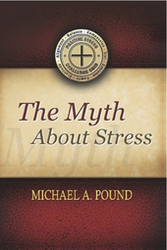 "When we realized that Michael Pound, author of The Myth About Stress, saw the importance of probiotics in supporting positive stress, we knew this was the perfect book to initiate our online bookstore," says Lisa Peterson Love of Nutri-Health Supplements
Cottonwood, AZ (PRWEB) May 25, 2010
Nutri-Health Supplements, LLC, a leader in direct-to-consumer probiotic supplements, announces the launch of its new online health book category with The Myth About Stress by Michael Pound. Books will be sold through its web site at http://www.nutri-health.com.
Pound is a board-certified doctor of chiropractic and is a member of the American Chiropractic Association, the California Chiropractic Association and is an Ambassador for the Antioch Chamber of Commerce. He currently practices in Antioch, CA and lectures to clubs and businesses about stress.
Dr. Pound's book confronts the conventional wisdom that all stress is bad and that stress can be eliminated from our lives. He presents evidence showing that there is "good" stress, as well as "bad" stress. Knowing how to attract and even cultivate good stress can actually improve your health, your career and your family life, says Pound.
In the book, Dr. Pound discusses

The 7 essential principles to managing stress on a daily basis
How to turn almost any negative stress into a positive one
The truth behind the stress-free lifestyle
The powerful effects of probiotics in managing stress
Dr. Pound presents strategies that use stress as a positive tool to improve finances, become more productive and even extend lifespan. He also shows how to protect yourself from becoming a victim of stress.
"We were intrigued by Dr. Pound's fresh viewpoint about stress," says Lisa Peterson Love, Brand Communications Director for Nutri-Health Supplements. "The book is extremely well written and easy to read. And when we realized that he also acknowledged the importance of probiotics in supporting 'positive stress,' we knew this was the perfect book to initiate our online bookstore."
The book is available at http://www.nutri-health.com.
###