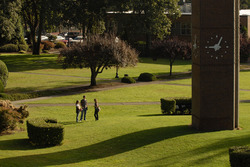 The Best Religiously Affiliated Colleges.
Newberg, Ore. (Vocus) May 25, 2010
George Fox University, rated among the top 60 schools in Forbes' list of "America's Best Colleges" for 2009-10, earned a spot among the top 10 in Forbes Media's 2010 ranking of "The Best Religiously Affiliated Colleges."
George Fox ranked No. 8 on the list and joined the likes of Boston College (No. 2), Kenyon College (No. 3) and the University of Notre Dame (No. 5) in the top 10. George Fox was the only college in the 109-member Council for Christian Colleges & Universities to earn a spot on the list, comprised of "20 schools that offer quality education and connection to faith," according to Forbes.com. Centre College of Danville, Ky., was rated No. 1.
The rankings come after George Fox was ranked No. 58 overall in Forbes' 2009 America's Best Colleges report. The university was the top CCCU member on that list, making it the top-ranked Christian college in the nation.
To determine the best religiously affiliated schools in the country, Forbes re-sorted its 2009 rankings of "America's Best Colleges" to look at only those schools with formal (even if they're mainly historic) affiliations to a particular faith, according to the Forbes website.
Of George Fox, Forbes stated, "Although many colleges and universities featured on this list boast mostly historic ties to faith, others, like George Fox University, feel that spiritual growth is an essential part of a well-rounded education. The university integrates its Christian faith into its curriculum through a Spiritual Life Program, where students participate in programs like community service and chapel, which hosts popular theologians and facilitates worship."
At George Fox, undergraduate students attend twice-weekly chapel services and engage in service-oriented projects to benefit the local and global communities. In 2009, the school marked the 11th anniversary of Serve Day, a day in which the school's entire Newberg, Ore., campus closes so students, employees and alumni can volunteer for service projects throughout the Portland, Ore., area.
The school also hosts service trips over Christmas and spring breaks, a May Serve outreach to a foreign country each spring, and inner-city ministries that regularly assist the needy in Portland and Salem, Ore. The university is affiliated with the Quaker (Friends) Church.
George Fox's commitment to service is reflected in the school's mission: "To prepare students spiritually, academically, and professionally to think with clarity, act with integrity, and serve with passion."
On schools with religious affiliations, Forbes states, "Whether they're now devoutly religious or mostly secular, religiously affiliated schools can offer first-rate educations for mind and soul."
Forbes Media, which encompasses Forbes magazine and Forbes.com, is one of the nation's leading business sites on the Web, with 18 million online readers each month, according to the company.
Forbes' rankings and methodology for its "America's Best Colleges" compilation are posted online at the Forbes.com site. According to Forbes, its ranking system is designed to stress the outputs of a college education rather than the inputs stressed by the U.S. News and World Report college rankings.
Forbes' 20 Best Religiously Affiliated Colleges
1. Centre College, Danville, Ky.
2. Boston College, Chestnut Hill, Ma.
3. Kenyon College, Gambier, Ohio
4. DePauw University, Greencastle, Ind.
5. University of Notre Dame, Notre Dame, Ind.
6. Hampden-Sydney College, Hampden-Sydney, Va.
7. St. Mary's College of California, Moraga, Calif.
8. George Fox University, Newberg, Ore.
9. Emory University, Atlanta, Ga.
10. Davidson College, Davidson, N.C.
11. Rhodes College, Memphis, Tenn.
12. College of the Holy Cross, Worcester, Mass.
13. Doane College, Crete, Neb.
14. Salem College, Winston-Salem, N.C.
15. Drew University, Madison, N.J.
16. Wofford College, Spartansburg, S.C.
17. College of Wooster, Wooster, Ohio
18. Hendrix College, Conway, Ark.
19. Macalester College, St. Paul, Minn.
20. Transylvania University, Lexingon, Ky.
George Fox University is ranked by Forbes as one of the top 100 colleges in the country and highest among Christian colleges. George Fox is the only Christian university in the Pacific Northwest classified by U.S. News & World Report as a national university. More than 3,300 students attend classes on the university's campus in Newberg, Ore., and at teaching centers in Portland, Salem, and Redmond, Ore., and Boise, Idaho. George Fox offers bachelor's degrees in more than 40 majors, degree-completion programs for working adults, five seminary degrees, and 12 master's and doctoral degrees.
Contact:
Rob Felton
Director of Public Information
503-554-2129
###