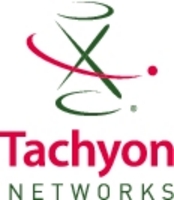 Tachyon is extremely pleased to be able to share the successful results of our first in-flight tests with the ATR-9300
San Diego, CA (Vocus) May 26, 2010
Tachyon Networks today announced the successful in-flight testing of its new ATR-9300 airborne terminal for the mobile Comms-on-the-Move (COTM) market and ISR applications. In order to meet the requirements of its customers' high bandwidth data, voice and video needs, Tachyon has developed an Ultra Small Aperture Terminal (USAT) based aeronautical terminal achieving mobile data transmission rates of 10Mbps x 2.8Mbps, operating in Ku-band beams. The new Tachyon ATR provides customers with the ability to upload full-motion video while in flight using a compact 18-inch airborne-stabilized antenna.
Demand for satellite based broadband communication services for COTM applications, especially in manned aircrafts and the ISR market has grown significantly in recent years. To address this demand, Tachyon has integrated technology from several partner companies including Intelsat and iDirect Government Technologies to demonstrate high bit rate airborne Ku-band communications to their customer.
The complete system was demonstrated with in-flight IP throughput of 2 Mbps, in the return (upload) direction, and is optimized for multiple ISR applications. Based on the iDirect iConnex e850mpTM, the solution uses common ground infrastructure, or hubs, that can be simultaneously applied to land, sea and air missions for an integrated approach to advanced C4ISR missions. iDirect's iConnex e850mp™ Satellite Router Board is compact and lightweight so it suits airborne applications to deliver broadband access for military and government users.
"Tachyon is extremely pleased to be able to share the successful results of our first in-flight tests with the ATR-9300," stated Peter Carides, CEO of Tachyon. "Our development team and partners are excited about the potential of our new ATR-9000 series of aeronautical terminals and have demonstrated their unwavering commitment and support during the development process."
The ATR-9300 is the first in a series of terminals, which enable managed full motion video solutions to be extended from Standard Definition to High Definition. Along with the new line of airborne solutions for UAV and manned aircraft, Tachyon offers managed network services and end-to-end solutions engineering.
"The global coverage and reliability of Intelsat's satellite network is ideal for supporting the bandwidth requirements of unmanned aerial vehicles and other intelligence, surveillance and reconnaissance applications," said Mark Rasmussen, Intelsat's Vice President, North America Sales, Network Services. "Our satellite bandwidth is integral to customized solutions such as Tachyon's ATR-9300."
Availability
The ATR-9300 is operational and available today for customer demonstrations.
About Tachyon Networks
Today's Tachyon engineers custom, end-to-end satellite solutions for fixed, portable and Comms-on-the-Move (COTM) applications, delivering the highest quality managed network services for data, voice and video. Tachyon serves enterprise and government agencies that require secure mission critical communications, business continuity and disaster recovery. Our complete solutions include management and operations of space segment capacity, teleport facilities, network services, and VSAT equipment and antennas. Tachyon's financially backed industry-leading SLA guarantees superior quality of service (QoS).
For more information see http://www.tachyon.com.
# # #