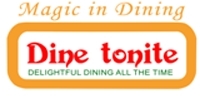 New York, NY (Vocus) May 25, 2010
DineTonite.com the New York City based restaurant marketing site announces its newest innovation; the "Meal-Deal of the Day". The Meal-Deal of the Day is the company's latest effort to bring fine dining and substantial savings to the user's handheld device and desktop. By offering daily deals from our participating restaurants, DineTonite.com continues its trend to enhance your dining options and variety.
The Meal-Deal of the Day will offer users huge discounts at participating restaurants in the New York City area. Combined with all the other services the site already offers, DineTonite.com is sure to become the one stop shop for your dining experience needs.
Check DineTonite.com as part of your daily routine and take advantage of our numerous deals and services.
Restaurateurs, find out how to be part of the growing list of restaurant owners who use the many free marketing services of DineTonite.com to bring more traffic and trade to your sites and locations.
About DineTonite.com: DineTonite.com, is an online restaurant marketing service based in New York City, not far from the city's famous "Restaurant Row", that provides diners a unique and easy to use platform for online reservations, take out and delivery orders, reviews and more and restaurant owners with free video, photos, and other marketing initiatives processed in real time on desktops and mobile devices. Look for DineTonite.com in other cities coming soon.
###