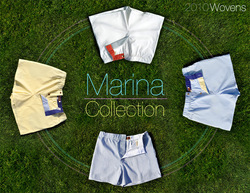 We like to compare our clothing to a fine glass of Scotch - it never lets a man down
Los Angeles, Calif. (PRWEB) May 25, 2010
The creative professionals from Necessary Baggage set out today to prove it's not a designer suit that defines a gentleman, but the confidence and style he exudes when wearing the clothes he turns to after a day in the boardroom. Behind the perfect shave, beyond the best suit, and underneath a man's general swagger is where the process actually begins. With the debut of the company's line of loungewear, Necessary Baggage promises to reinvent the gentleman with an approach that reflects a modern style, while paying homage to the classics. Through the creative design process, Necessary Baggage delivers a brand that offers effortless and comfortable loungewear with an intense attention to detail. So whether it's their signature lounge shorts, Henley shirts, or sleepwear, Necessary Baggage ensures today's gentlemen can lounge in complete comfort - while doing it in style.
"We like to compare our clothing to a fine glass of Scotch - it never lets a man down," said Anthony Malzone, CoFounder and VP of Brand Design and Development, Necessary Baggage. "A man of style understands it's the smallest details that make the biggest impressions. We've taken particular care to fuse impeccable design and detail with sensible comfort. We believe we have tapped into a white space within the fashion industry to fill a noticeable void for upscale, stylish and affordable men's loungewear."
Necessary Baggage will continue to switch up its clothing line to reflect the changing seasons with hot new colors, textures, fabrics and designs. As of today, spring is in full bloom with the brand's Marina Collection - available now online at Necessary Baggage. So get on deck and check out the line; all crafted with a sunny and open air voyage in mind.
Signature Lounge Shorts - Made to Make an Impression; Not Conceal
Handled exclusively in the heart of the L.A. Fashion District, Necessary Baggage created three signature fits for its lounge shorts to ensure no man is left without the perfect pair. The conservative Gentleman's Fit, Short & Snug Fit, and the more vintage Tailored Fit each deliver a unique style based on one's shape, as well as preference. But all fits have one common theme in that all are beautifully laden with the company's signature contrast waistband and fly, with hand-picked buttons imported from Italy. All garments, like the gentlemen wearing them, get better with age, and are built strong to take on even the toughest of washes.
About Necessary Baggage
Necessary Baggage was founded in 2009 with a mission to "reinvent the gentleman" with a men's loungewear line that pays homage to the classic cuts and lines of styles past, yet with timely designs ideal for the modern man. From detailed lounge shorts in various cuts and styles, to sleepwear, Henley shirts and T-Shirts, Necessary Baggage uses the finest fabrics to ensure luxury, comfort and effortless style.
Get up close and personal with the brand. Visit us at Necessary Baggage.
# # #