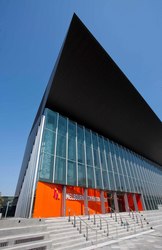 The convention centre had been built in an incredibly short time frame in the most complex of crowded urban surrounding, and had delivered Australia's best convention and exhibition complex in an environmentally sensitive and function-friendly way
Westbury, NY (PRWEB) May 26, 2010
The multi-award winning Melbourne Convention Centre has been declared the most outstanding example of construction excellence in the nation by winning the 2010 Australian Construction Achievement Award (ACAA) – the industry's most prestigious award.
Constructed by Brookfield Multiplex, the Melbourne Convention Centre was delivered as a public-private partnership under the Partnerships Victoria model to create the world's first, and one and only, '6 Star Green Star' environmentally rated convention centre.
Seamlessly integrated with the Melbourne Exhibition Centre, the venue is the largest and most versatile convention and exhibition venue in the Southern Hemisphere – the Melbourne Convention and Exhibition Centre (MCEC).
In congratulating Brookfield Multiplex, Leigh Harry, chief executive of the MCEC also acknowledged the designers; Joint Venture Architects Woods Bagot and NH Architecture, the developers Plenary Group, the State Government of Victoria, the City of Melbourne and the Melbourne Convention and Exhibition Trust for their collaborative vision.
'This is a perfect example of how public-private partnerships can succeed. As a team we have created one of the most impressive architectural and environmentally-sound buildings in the world. On behalf of the members of the Melbourne Convention and Exhibition Trust, my congratulations to Brookfield Multiplex and to everyone involved. This is indeed a great honour.'
Chair of the 2010 ACAA judging panel, Professor Michael Dureau said 'The convention centre had been built in an incredibly short time frame in the most complex of crowded urban surrounding, and had delivered Australia's best convention and exhibition complex in an environmentally sensitive and function-friendly way.
For media enquiries, please contact
Suzi O'Dell, Marketing and Communications Manager
Melbourne Convention and Exhibition Centre
Tel: +61 3 9235 8216
Mobile: +61 410 220 578
Web: http://www.mcec.com.au
###