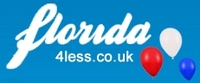 (PRWEB) May 26, 2010
Anticipation for the 'theme park within a theme park' – rumoured to have cost the Florida resort over $200 million (£140 million) – has reached boiling point as record numbers of families book to spend their summer on a Florida holiday.
Spanning 26 acres, The Wizarding World of Harry Potter spirits families away from Florida and into the magical universe made famous by bestselling author J.K. Rowling. The attraction brings to life Hogwarts School of Witchcraft and Wizardry, together with locations from the books and movies, so that adults and children alike are sure to discover that magic really does exist on a Florida holiday.
Florida holidays…Harry Potter style
Stepping off the Hogwarts Express, families are invited to meander through the streets of Hogsmeade, tasting genuine Butterbeer at the Three Broomsticks restaurant or sending a postcard home the Hogwarts way at The Owl Post.
Children can try out the perfect wand to practise their Expecto Patronum at Ollivander's, pop into Honeydukes for Cauldron Cakes and Chocolate Frogs, or follow in the footsteps of Fred and George Weasley at Zonko's Joke Shop. Meanwhile, parents can take a quiet break with authentic British pub fare at the Hog's Head. And before enjoying the rest of their Florida holiday, kids should make sure they're ready for the Hogwarts school year by picking up The Monster Book of Monsters and other magical items at Dervish and Banges.
Moving on, the centrepiece of the attraction is undoubtedly the hour-long spectacle that is Harry Potter and the Forbidden Journey. Here, families will be taken on an unforgettable tour of Hogwarts, from Dumbledore's office to the Defence Against the Dark Arts classroom and Gryffindor common room. Throughout, Ron and Hermione will guide passengers safely through the famed corridors, towering spires and Quidditch pitches of the castle on a journey that pushes the boundaries of technological wizardry.
Next, the Dragon Challenge lets families choose between the Chinese Fireball or Hungarian Horntail, then climb aboard the dual-track rollercoaster as it twists, turns and intertwines, creating two very different ride experiences. Finally, Flight of the Hippogriff sees Hagrid teaching how to approach and ride the legendary beast, culminating in a spectacular family ride.
Considering a family holiday to Florida? Step on board the Hogwarts Express…
Having been shrouded in secrecy throughout its development, The Wizarding World of Harry Potter opens at Universal Orlando Resort's Islands of Adventure on 18th June 2010. Discover the huge range of unbeatable special offers on Orlando package holidays and Walt Disney World holidays with Florida4Less, and experience the true magic of a Florida holiday.
Entrance to The Wizarding World of Harry Potter is included in the admission price to Universal Resorts Orlando's Islands of Adventure park. Families heading on holidays to Florida can enjoy further attraction ticket discounts with Orlando package holidays or Disney World holidays from Florida4Less.co.uk.
###