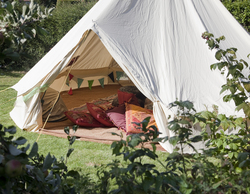 All profits from Festinho go to the ABC Trust, who directly help Brazilian street children to transform their lives, so any cost savings we can make mean more money for a good cause
(PRWeb UK) May 26, 2010
It's a depressing sight. Thousands of cheap, nylon tents strewn across festival sites once the music stops, many too damaged to be donated to charity and destined for landfill.
Ready pitched tents, tipis and pods have transformed festival accommodation in recent years – but at a price, with punters paying upwards of £400 for the privilege of not having to slum it.
Now a husband and wife team from Norfolk have come up with an affordable, stylish solution: a pre-pitched tent you can take home after the festival.
SoulPad Villages are the brainchild of Zoe and Mark Vanderstay, whose disgust at the waste seen at many music events prompted them to offer ready pitched and hassle free 100% cotton canvas bell tents which you get to keep.
SoulPad people will even be on hand to show you how to care for and pack up your new tent to take home.
"The cheap tents and equipment you can get from camping shops and supermarkets as festival offers don't last five minutes and look dreadful. That's why so many get trashed and left behind," says Zoe.
The idea of tents to take home is going down well with festival organisers, who have been tasked with disposing of discarded camping gear in the past. According to Nettie Dal Jensen of Festinho, which takes place at Hinwick House in Bedfordshire over August Bank Holiday weekend, the savings on clean up costs could be significant.
"All profits from Festinho go to the ABC Trust, who directly help Brazilian street children to transform their lives, so any cost savings we can make mean more money for a good cause," she said.
"SoulPads look beautiful on site in their very own orchard, too!"
With prices starting at £239.99, well below the cost of rented tents at many events, SoulPads are set to bring affordable style and comfort to boutique festivals - and back gardens – across the UK this summer.
Go to the SoulPad website for details of products and the SoulPad Village offers at festivals including Festinho, Limetree and One Love. http://soulpad.co.uk
And for more information about Festinho, visit http://www.festinho.com
-ends -
For images or interviews call Lucy Clegg or Matt Ware at Tribe on 01603 417722 or email lucy(at)tribepr(dot)com or matt(at)tribepr(dot)com
Notes to editors
To see what SoulPad is about, view this 30 second YouTube video: http://www.youtube.com/watch?v=3c9dmGty0IQ
SoulPad offers affordable 100% cotton canvas bell tents, tipis and super stylish camping accessories online. SoulPad is camping with character in the garden, in the wild and at festivals
Fans of comfy camping and fed up with nasty nylon tents, Zoe and Mark Vanderstay set up SoulPad in 2006 to supply cool tents to discerning people.
SoulPad also bring style and comfort to festivals across the UK with SoulPad Villages – ready-pitched, hassle free camping havens which you get to keep when the party is over.
From its Norfolk base, SoulPad is spreading the love across the globe and helping to make camping cool in the USA and Australia.
With Soul.
###