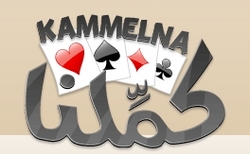 Kammelna.com is an online multi-player 'Balote' game, a popular card game played in France, featuring an in-browser flash client and an intuitive user interface
Panama City Beach, FL (PRWEB) May 26, 2010
After its acclaimed regional success with its first online card game, Remal IT is launching the beta stage of its 'Balote' free-to-play online card game. Kammelna.com is an online multi-player 'Balote' game, a popular card game played in France, featuring an in-browser flash client and an intuitive user interface. Players can choose between playing with other players or play with advance AI agents.In addition, the site also features a sophisticated ranking system. The game follows the rules of the Modern French Belote.
The beta site supports English, and French. The English client can be accessed from here:
kammelna.com/en
And the French client can be accessed from here:
kammelna.com/fr
About Belote
Belote is a 32-card trick-taking game played in France, and is currently one of the most popular card games in that country. It was invented around 1920. Closely related games are played throughout the world. The game is played mostly with four players, and each two players forms a single team. The goal of the game is to win more points than the other team, by strategically playing certain cards in order to win more tricks.
About Remal IT
Remal IT is a Saudi based Internet applications and services startup that was established in 2005. It owns and operate a wide range of social sites and Internet application. Remal IT launched Kammeln.com in Saudi Arabia in 2009 and attracted over 700,000 players. remal.com
###