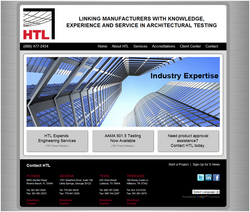 "At HTL, our goal is to be a single resource for our customers' testing needs, and we wanted our updated website to reflect that mission." - Vinu Abraham, P.E., CEO of HTL
Riviera Beach, FL (PRWEB) May 27, 2010
Hurricane Test Laboratory, LLC (HTL), a leader in the architectural and fenestration testing industry, is pleased to announce the launch of a newly redesigned corporate website, http://www.htltest.com. The site offers the latest tools and features to make it easier for architects, builders, engineers and building owners to find and share information about building product testing.
Visitors to HTL's updated website will be able to start a project from any page of the site and find detailed information about test services, industry associations, accreditations and more. The new client center page allows visitors to send drawings and project information using an easy contact form that is immediately delivered to HTL's team of industry experts. In addition, customers planning a visit to one of HTL's four US locations can visit the client center to plan their trip and get special hotel discounts.
"At HTL, our goal is to be a single resource for our customers' testing needs, and we wanted our updated website to reflect that mission," says Vinu Abraham, P.E., CEO of HTL. "The site is a comprehensive resource for individuals seeking information about HTL and testing services. We've made it easy to navigate and easy for clients to find and share information."
HTL is committed to providing clients with the latest building industry information. A crisp new look and enhanced navigation features offer visitors ease of use and informative information on product testing. The new site also features translation capabilities for clients around the world, as well as links to find HTL on social networking sites. In addition, visitors can sign up for HTL's e-mail list to receive the latest HTL news.
For additional information visit http://www.htltest.com or call 888-477-2454.
About HTL
HTL is a premier architectural and fenestration testing services company specializing in building components and assemblies. HTL operates four facilities in North America, which provide a variety of testing and evaluation solutions to building products companies throughout the world. Delivering a unique blend of engineering consultation, state-of-the-art services, and a user-friendly testing environment, HTL's core services include, but are not limited to, hurricane, blast, air, thermal, water, structural, roof and security testing. All test methods HTL provides adhere to national standards, such as ASTM, AAMA, WDMA, NFRC, and UL.
HTL corporate headquarters is located in Riviera Beach, FL with additional facilities in Lithia Springs, GA., Hillsboro, TN., and Lubbock, TX.
# # #