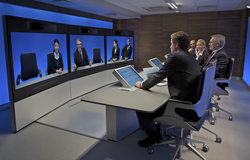 Eva Burnette comments: "We were successful in getting the Rendezvous solution to do what we needed as a specialist user of a scheduling tool. I am delighted to report that the main objectives of the project have now been delivered."
(PRWEB) May 27, 2010
NFS Hospitality, developers of the Rendezvous room and resource booking software, has now completed the adaptation of their browser-based Rendezvous Workspace to meet the needs of TANDBERG's Executive Briefing Center facilities. With headquarters in both New York and Norway, TANDBERG is a leading provider of telepresence, high-definition video conferencing, and mobile video products and services, which it markets in over 90 countries.
Like many global companies, TANDBERG operate Executive Briefing Centers (EBCs), designed to support presentations and meeting with clients and prospects by providing the environment, technology and staff support infrastructure to conduct meetings with multiple resources, in many cases on a multi-country basis. TANDBERG has six facilities in Europe, Americas and Asia.
An important facilitator of such meetings is Video Conferencing and Telepresence technologies. The advanced TANDBERG telepresence facilities, T3, available at the EBCs offer a rich visual collaboration experience, ideal for bringing together important components of a multi-location meeting.
For many years the firm has deployed a highly successful and functional tool for VC management, the TANDBERG Management Suite, however the missing link was the booking of all the other components required to effectively create and manage a complex, multi-location meeting; rooms, resources, documents, and staff resources, for example.
In addition, there are thirteen T3 Telepresence rooms located in Europe and the booking of these rooms through Outlook used to be a time-consuming, multi-step process.
The challenge for NFS Hospitality was to take their Outlook-based, multi-location scheduling solution and adapt it to fit the EBC booking model, whilst at the same time enhancing functionality to deliver benefits in key areas, such as the management of meeting agendas and the booking of staff resources required to deliver training and presentation support.
Eva Burnette, Head of TANDBERG's Executive Briefing Centers, comments: "We were successful in getting the Rendezvous solution to do what we needed as a specialist user of a scheduling tool. I am delighted to report that the main objectives of the project have now been delivered."
Rendezvous has now been enhanced to enable the EBC Coordinators to book multiple rooms in different locations, checking the availability of supporting staff and creating an EBC meeting fast and efficiently. Most importantly, changes to location, times, and resources required can be dealt with as part of a single integrated process, rather than having to deal with many different systems and processes. Rendezvous updates Outlook Calendars, ensuring staff involved in a meeting are kept fully up to date.
"Not only will time be saved in meeting planning, but we will also be able to secure better utilization of expert staff resources and have the information available to deliver a better service to our consultants and clients," comments Jo Torkel Lie, Technology Director for the EBC business, based in Oslo, Norway. Rendezvous has been implemented initially at the European EBC facilities and will soon be extended to EBC operations in other regions.
About NFS Hospitality:
NFS is an international company with a global client base of over 1,000 users. NFS offers a wide range of corporate and commercial software solutions that accommodate many business processes across multiple industries, including Law Firms & Major Corporations, Conference Centers, Arenas & Stadiums, Museums, Visitor Attractions, Hotels & Restaurants, and Catering Companies. In addition to software, NFS provides business consultancy, training and integration services, with all products and services supported by a 24/7 global Helpdesk. NFS Hospitality is a Microsoft Certified Partner and an IBM Business Partner.
For more information about NFS' Rendezvous solutions, email info@myrendezvous.net, visit http://www.myrendezvous.net, or call (917) 210-8205.
Media Contact:
Peter Carter
Marketing Manager
T: +44 (0) 1920 483 539
http://www.nfs-hospitality.com
###