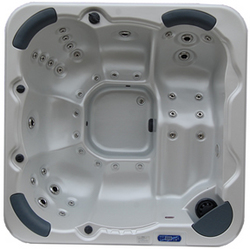 (PRWEB) May 27, 2010
Many people have sampled the relaxing and therapeutic benefits of a soak in a hot tub, say, in their local gym, at a friend's house or maybe during a vacation. Consequently they are keen to then get into hot tub ownership themselves but they can become easily put-off the whole exercise by the relatively high up-front costs of acquiring one! After some basic market research and a few visits to local dealers, it's easy to see that hot tubs can easily cost in excess of £4000 for a basic specification model to which needs to be added (and often forgotten) the cost of additional electrical wiring needed to safely handle the additional electrical load that the tub will place on the home system. Under UK law this work will need to be carried out by a Part P registered electrician with typical costs for the install being as much as an additional 15% of the original purchase price of the hot tub. It's therefore easy to see how the whole exercise can become too expensive for many people to bear!
Enter Splash Spas own range of portable acrylic hot tubs; the Miami and Hawaii. Both of these spas have been developed with the intention of running from a UK standard 13amp electrical socket plug with no requirement for any additional electrical installation work. They are manufactured by a hugely respected Chinese company, Crystal Island Leisure Products who have been producing acrylic hot tubs for over fifteen years. Splash Spas innovative mail order website provides the prospective purchaser with a full description of the rigorous manufacturing and testing processes that each hand-made hot tub is subjected to and to ensure that buyers are given as much information as possible prior to making the 'buy' decision.
Both models are available now to buy for under £4000 (including delivery) with each one featuring a powerful 2-speed, 3hp massage pump inter-connected to an extensive range of variable massage jets distributed strategically throughout each hot tub's seated and reclining positions. The Hawaii has a single reclining position and five separate seated positions whilst the Miami features twin recliners and three seated positions. A thermostatically controlled heater and program timer provide computer controlled accuracy of the hot tub's water temperature and filtration cycles whilst a powerful 400 Watt blower provides additional hydrotherapy experience to the occupants. Effective water cleaning is achieved with each hot tub's built-in ozonator and cartridge filtration system.
To protect them from the extremes of the European climate, both spas are manufactured with foam-backed insulation to reduce heat loss of the hot tub water through the tub shell. Each hot tub is also supplied with an insulating matching hard cover. Both the Hawaii and Miami are backed by a full 2 year warranty, UK technical helpline and a full parts service.
Andre Knight, a director of Splash Spas, confirmed that, prior to the launch of the Hawaii and Miami in the UK that extensive market research was conducted by the company to identify the correct configuration of hot tub (numbers of seats, jets etc) that would have the most appeal to the general public. Aqua Lotus was shortlisted from a significant number of Chinese companies all pertaining to offer to make the chosen models of hot tub. The company was then selected as the manufacturer of choice after Splash Spas visited the company and undertook a thorough inspection of its manufacturing facility.. In fact, Splash Spas was so impressed with Aqua Lotus's set up that a detailed description of the hot tub manufacturing process is available on http://www.hottubsuk.co.uk for anyone to see.
Knight added "Hot tubs manufactured in China have come in for a lot of bad press recently. This has been mainly due to a few disreputable UK dealers buying shoddy product from an anonymous Chinese manufacturer, marking it up by a huge amount and then, when it all goes wrong, offering zero back-up or replacement. The Miami and Hawaii hot tubs are manufactured by a company that specializes in making hot tubs only and extensive use of standard, off-the-shelf products such as jets, pumps, blower etc are used throughout. We already have significant experience of dealing with Chinese manufacturers as we have been importing a range of innovative inflatable spas (or bubble spas) from ORPC in Shanghai. This experience has been crucial in establishing a new line of hot tubs."
About Splash Spas Ltd:
Splash Spas was the UK's first online hot tub chemicals and accessories company. Formed in 2004, the company operates out of premises near Alton, Hampshire. The company is a fully ISIS and IDIS accredited on-line retailer with over 20,000 customers throughout the UK and Europe
For more information, call Splash Spas at +44 (0)1420) 520030, email apknight@splashspas.co.uk, or visit http://www.splashspas.co.uk, http://www.splashspastrade.co.uk, http://www.hottubsuk.co.uk.
###