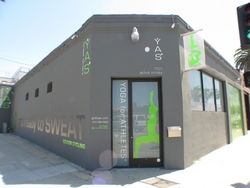 Our YAS-A-THONS are a blast!! Plus, there are great prizes for the people who raise the most money for ThinkCure. Sherri Rosen VP of Sales & Operations.
Venice, CA (PRWEB) May 26, 2010
L.A.-based yoga maverick Kimberly Fowler and her YAS Fitness Centers are proud to team with the L.A. Dodger's ThinkCure organization for "YAS-A-THON for ThinkCure," a fund-raising spin-a-thon for L.A.-based cancer research.
ThinkCure, dedicated to speeding collaborative research to cure cancers, is a community-based non-profit organization launched in 2007 by the Los Angeles Dodgers, the McCourt family, City of Hope and Children's Hospital Los Angeles.
Kimberly Fowler, author of the soon-to-be-released "The No OM Zone: No Chanting, No Granola, No Sanskrit" (Rodale Books, July 6, 2010) is well known for her straight-talking approach to yoga as well as her commitment to community. The founder or YAS Fitness Centers and originator of the Yoga for Athletes® movement has run major fundraising events for local and global causes at YAS since the first location opened in Venice in 2001. YAS-A-THON for ThinkCure marks her first collaboration with ThinkCure.
"We've raised money at YAS for important causes for years -- from local schools and kid's athletic programs to flood relief for Katrina victims," says Fowler. "Based on our what we've done in the past and the growth of YAS -- we're running events at all four of our L.A.-area locations -- we have already raised $75,000 but we think we can raise $150,000 for ThinkCure. And we're really psyched about that!"
Having survived brain cancer in her twenties, Fowler, now a formidable fifty-one, has an understandable passion for supporting organizations dedicated to helping people with cancer and finding cures. Over the years, she's made appearances on behalf of Lance Armstrong's Livestrong organization. And her long track-record of giving back to the Los Angeles community is right in line with ThinkCure's mission.
According to ThinkCure President, Janet Clayton, "Ideas like the YAS-A-THON and our growing community point to our most important strength: people power. Individuals coming together will truly make a difference in the fight against cancer."
Individuals will come together for YAS-A-THON for ThinkCure on Sunday, June 6th, 2010, from 1:00 pm - 4:00 pm at all four L.A.-area YAS Fitness Centers -- Venice, Silverlake, Costa Mesa and the brand new Downtown L.A. location.
A silent auction featuring everything from great wines to famous photographs will take place the night before -- Saturday, June 5th from 7:00 - 9:00 pm -- at YAS Venice (on the corner of Abbot Kinney and Westminster Ave. in Venice). Also featured in the auction will be copies of Fowler's upcoming No OM Zone book, as well as her new DVD, "The No OM Zone Yoga Workouts."
The YAS Venice and YAS Costa Mesa spin-a-thons are already at capacity, though a few bikes remain at YAS Silverlake and YAS Downtown L.A. for those looking to be get in on the action.
"We're asking participants to raise a minimum of $1000 to secure a bike," says Sherri Rosen, YAS's General Manager. "Our YAS-A-THONS are a blast!! Plus, there are great prizes for the people who raise the most money for ThinkCure."
Those prizes for the top fundraisers include Field Level VIP seats and a visit to the Alumni Suite at Dodger Stadium during ThinkCure Weekend (June 11-12), a Yearly Unlimited Series at YAS (worth $1800 and good at all locations) and 3-month Unlimited Series at YAS (worth $525).
To register, pick up a Rider Registration Form at the front desk of any YAS location. Go to http://www.go2yas.com or call (866) YAS-YOGA for more information.
###