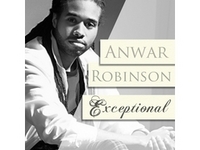 It's a pleasure to hear real depth and passionate lyrics in the songwriting efforts. In this midst of so much that is shallow on the playlists of today's radio programming, this song is a welcomed relief
West Orange, NJ (PRWEB) May 26, 2010
What do legendary songwriter, Carole Bayer Sager, Saxophonist/Grammy Nominee, Gerald Albright, Singer Songwriter/Producer, Will Downing, and pianist, composer and arranger; Onaje Allan Gumbs have in common? All love Anwar Robinson's newest release called "Exceptional." The buzz on this track is getting louder and for good reason. It doesn't matter where you start to break down this song, you'll love every last drop. The lyrics are intimate and personal without sounding contrived. Each word flows into the next while Anwar drives raw emotion into every phrase. This is a beautifully crafted song and Anwar's passion for singing is evident. Had he performed "Exceptional" on the Idol show…who knows?
Carole Bayer Sager had this to say about the making of "Exceptional." "I met Bob and Tyrone a few years ago and was immediately impressed with not only the quality, but also the quantity of catalog of songs they produced. I invited them to have a meeting with David Foster and I because we were both impressed with their work. Tyrone shared a number of songs that we thought had really good potential. About a year or so later, Tyrone shared with me that he and Bob were working with an artist who was on American Idol…Anwar Robinson. I had been watching the show and had already taken notice of Anwar. Since that time, Tyrone shared with me a couple of songs that they wrote for Anwar (Exceptional and Night's Hot). These songs show great creativeness and a high degree of writing skill. The marriage of song to artist is also an important point not to be overlooked as Anwar's performance is quite breathtaking…especially on Exceptional."
The good reviews don't stop. Gerald Albright has firsthand experience working with Anwar from the Idol days. Hearing "Exceptional" Albright said, "I truly love the song "Exceptional." After performing with Anwar Robinson on American Idol, I immediately became a true fan of his voice and delivery. I also enjoy the wonderful textured and intimate production of this great song. It's a pleasure to hear real depth and passionate lyrics in the songwriting efforts. In this midst of so much that is shallow on the playlists of today's radio programming, this song is a welcomed relief."
Making a song like "Exceptional" is no easy feat. Production is equally important in making a classic. Onaje Allan Gumbs remarked, "Writers, producers, arrangers, engineers and all around good guys. The consistent level of creativity and production is light years ahead of many of the top productions being heard on the airwaves today. Bo-Ty Productions is where good music needs to be in the 21st Century."
All great singers recognize real vocal skill so praise from Will Downing has special meaning. "What a beautiful song, yes I said "Song" something you don't hear much of these days. It's a great vocal and Production. Just when you think the song has reached its climax, Anwar takes it up a notch. There's no room to hide as a vocalist on a song like this and Anwar has no reason to as he delivers what I consider to be a more than "EXCEPTIONAL" performance."
Anwar Robinson commented, "Working in the studio speaks to the creative process. "To this very day, I am still amazed with the results of collaborating with Tyrone and Bob. We have had a long-standing working relationship and even friendship, which is a rare treasure in the business that we are in. Bob and Tyrone have always supported me-long before I garnered the fan base from my run on "American Idol: Season 4," and that speaks volumes.
Musically, Bo-Ty Productions brings unique elements to each artist they work with that enhances the very best quality in their artistry. I often feel as if I'm working with the world's best writing and production team whenever we work together . . ."
"What's really amazing about Anwar is his level of musicality," mused Tyrone Corbett, Co-Principal at Bo-Ty Productions. "My partner and I would prepare a track for Anwar to sing and he would come in, listen to the track and say "F, that's my favorite key"…Anwar has perfect pitch. In addition to this, his knowledge and sensitivity of/to music is quite impressive. On "Exceptional," Bob did an incredible job on the arrangement and after he and I finished the song lyrically, we felt no other singer could capture the honesty and passion as Anwar would. The session was remarkable from beginning to end and we think "Exceptional" will be one of those songs that will transcend time."
Robert Donzella, Co-Principal at Bo-Ty Productions sums it up . . . "One day, while visiting a fellow producer's studio in the corner of the room with his back towards me, a young man was playing incredible piano . . . A few minutes later I met Anwar. Move forward in time and I find myself in a writing session with Ty and Anwar on Night's Hot . . . It's comforting to know when you have a kernel of an idea your partner can take it and whip it into something cool...something Ty does frequently. As a production team both of us are very open to the artist's input. Needless to say Anwar's contribution was spot on and vibey. Add up the elements of unique track, interesting melodies, personalized lyrics and Ty's EXCEPTIONAL vocal production, put them in a creative box, squeeze in some inspirational glue, shake it around and you've got a Bo-Ty production.
###