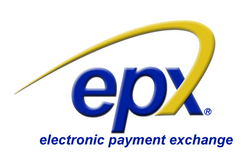 As an innovator of tokenization in the payment processing space, we have been helping merchants effectively secure their payment data for nearly a decade
Wilmington, DE (Vocus) May 27, 2010
Electronic Payment Exchange (EPX), a full-service payment processing organization, has entered is tenth year of issuing tokens as a means of securing credit card and ACH transaction data.
In early 2001, EPX engineered and deployed the payment industry's first tokenization technology, which has protected hundreds of millions of financial transactions and helped merchants eliminate the liabilities associated with storing unprotected payment data. EPX's proprietary tokenization technology replaces the sensitive payment information with unique IDs, which the payments industry has since come to call "tokens."
For each transaction processed by EPX, patent-pending EPX BuyerWall™ technology issues a BRIC (BuyerWall Recognized Identification Code) token to the merchant, which is meaningless to would-be thieves. The BRIC allows the merchant to maintain total control of the customer experience and realize all of the capabilities that previously required the storage of cardholder data including refunds, recurring transactions, and historical review.
"As an innovator of tokenization in the payment processing space, we have been helping merchants effectively secure their payment data for nearly a decade," said EPX Chief Security Officer Matt Ornce. "The industry has recently seen a rash of new entrants to the tokenization space. I applaud their efforts to catch up to our tokenization technology. However, I would caution merchants against using unproven solutions."
"All tokens are not the same. Some tokenization solutions that have recently come to market don't provide optimal security, since their tokens can be reverse-engineered to reveal their corresponding card numbers," explains Ornce. "EPX tokens provide ultimate security because they are not derived from card numbers, and therefore cannot be reverse-engineered into meaningful data."
Ornce says that another key differentiator between EPX's tokenization solution and those of competitors is that EPX tokenization technology is "built in, not bolted on" to its payment processing platform. EPX's payment processing platform was built with tokenization as an inherent component, while other payment processors have modified their legacy systems by adding on tokenization modules.
In addition to using tokenization for protecting credit card data, EPX tokenization technology has also been securing electronic check (ACH) payments since 2001. Contrary to recent claims by competing payment processors who reported that they were the first to offer tokenization of ACH data, EPX stands alone as the first to apply tokenization technology to ACH payments.
EPX has been an innovator and active leader in the payment processing space since 1979, and its nearly 10 years of using tokenization to protect credit card and ACH payments is further evidence of EPX's commitment to protecting merchants. According to EPX Executive Vice President Charles Crawford, "In the 31 years EPX has been in the payments business, we have made many breakthroughs by simply pursuing what is most effective, what is most efficient, and what serves our merchants best. We've never waited for others to lead the way, nor will we in the future."
About Electronic Payment Exchange
Founded in 1979, Electronic Payment Exchange is the global, industry-leading provider of fully integrated, end-to-end payment solutions for merchants across all distribution channels. EPX offers a full range of payment processing services for leading merchants, retailers, etailers, and banks in the United States, Canada, Europe, Latin America, and the Caribbean.
EPX is a participating organization of the Payment Card Industry Security Standards Council. EPX is PCI v1.2 compliant, a VISA USA Cardholder Information Security Program (CISP) Compliant Service Provider, and a MasterCard Site Data Protection (SDP) Compliant Service Provider.
For more information about EPX, visit http://www.epx.com or contact EPX at 302.288.0600.
###