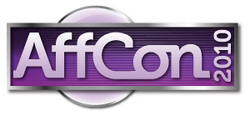 You don't have to be a sponsor, media partner or exhibitor to benefit. Get here, get in free and get smarter right away." said Daron Babin, co-founder and CEO of WebmasterRadio.FM and AffCon2010.
Fort Lauderdale, FL (PRWEB) May 26, 2010
If you think AffCon 2010 - Denver is cool just because it is kicking registration fees to the curb, you have at least 11 more reasons to consider this affiliate marketing conference the hottest ticket in Denver June 21-23. Not only do performance marketers get a free pass, but they will attend seminars, technical workshops and networking opportunities featuring the finest minds in the industry.
The Line-up is Luminary
Keynote speakers for June 21 and 22 feature trail blazing men who have multiple ways to get their messages to affiliate marketers. Day one opens with a bang. Joel Comm takes the stage.  An entrepreneur, bestselling author, Comm is an expert at harnessing the power of social media and mobile applications to expand a company's brand's reach and engage in active relationship marketing. Learn from the man behind The Joel Comm Show and the internet reality show The Next Internet Millionare. 
Not to be outdone, day two pays off what Comm and team tee up. Super Affiliate and Managing Partner of Shoemoney Capital, Jeremy "Shoemoney" Schoemaker gives a specialized keynote address that will stream live from the conference floor on the popular WebmasterRadio.FM show, "The Shoemoney Show." This interactive format allows Schoemaker to interview guests on the main stage.
"Nowhere but AffCon 2010 - Denver do professionals in the affiliate marketplace have access to the champions of our industry," said Daron Babin, co-founder and CEO of WebmasterRadio.FM and AffCon 2010. "You don't have to be a sponsor, media partner or exhibitor to benefit.  Get here, get in for free and get smarter right away."
AffCon 2010 - Denver provides affiliates the opportunity to attend the conference at no cost, based on the belief that companies benefiting from properly educated performance marketing professionals should foot the bill for affiliates interested in furthering their industry knowledge.
In fact, each conference day is filled with hour-long educational seminars covering topics such as digital marketing, legal trends, Ecommerce solutions and domain strategies from a variety of seasoned professionals and leaders such as platinum sponsor ClickBank, gold sponsor PerfectAddress.com, silver sponsor Atrinsic Interactive, bronze sponsor SaveologyNetwork.com, Media Whiz, The New York Times, Paulson Management Group, UniqueLeads, Merchant Metrix, Digital Moses Confidential, and Website Magazine.
If you crave more, check out the intensive paid professional development sessions offered June 23rd in partnership with Search Engine Strategies (SES), the world's leading global SEM conference and expo series, David Szetela, President of ClixMarketing.com, and Tim Ash, CEO of SiteTuners.com.
Featured AffCon2010 Denver Speakers
 
John Andrews gives affiliates an eye-opening peek into blogs during the Blog Builders session. Andrews is the Founder and Managing Partner of Collective Bias.
Katja Presnal joins Andrews as a Blog Builder session panelist. Presnal is an editor and founder of Skimbacolifestyle.com and SkimbacoHome.com.
Bryon White helps panelists Write for Traffic.  White is the President and founder of ideaLaunch and host of the weekly 'LifeTips' radio show on WebmasterRadio.FM.
Jeff Ferguson shares tips on Localized Listings for affiliates during his session. Ferguson is Senior Director of Online Marketing for Local.com.
Marshall Simmonds is a featured Shades of Grey – Black Hat vs. White Hate SEO panelist. Simmonds is the founder of Define Search Strategies and Chief Search Strategist at the New York Times.
Tim Ash goes solo during the Landing Pages session. Consider attending his half-day training session June 23. Ash is President and CEO of SiteTuners.com and parent company Epic Sky.
Jordan Kasteler is the founder of Search and Social, making him a perfect panelist for the Social Media Marketing session. You can hear Kasteler on WebmasterRadio.fm with Jim Hedger.
Faith Price joins the Affiliate Analytics session. Price is the Business Development and Affiliate Manager for Expedia North America and Oceana regions. 
More Than Work
Affiliates who work hard should play hard too. Download your day with other top industry professionals at WebmasterRadio.FM's evening AffiliateBash event June 21st. Keep the celebrating going at the SUPERSTAR Affiliate Party on June 22nd, hosted by the Paulson Management Group (PMG), a dynamic affiliate and SEM management company. For adventure-seekers and weekend warriors, AffCon 2010 Denver offers negotiated discounted specials on a number of Colorado day-tours, whitewater rafting, and more through Vail Resorts.
Visit AffCon2010.com for information on registration, sponsorship or exhibitor packages. Get involved in the networking site, My.AffCon2010.com, to share information, build your personal network and promote your participation at AffCon.
About AffCon2010 Denver
AffCon2010.com bases its conference and tradeshow series on the idea that actionable information, business building and networking opportunities should be freely available to everyone in the affiliate marketing industry, especially to working affiliate marketers. Featuring line-up of thought leaders in the affiliate and search engine marketing sectors, AffCon 2010 Denver is a unique opportunity to meet and share ideas with the brightest business people in the affiliate marketing industry. AffCon2010 is the only event in the affiliate marketing industry which gives affiliate marketers free access to the movers and shakers in the sector.
About WebmasterRadio.FM
WebmasterRadio.FM lifts the "veiled curtain" of the Internet, bringing the business community together through an interactive radio network. Its listeners are a global group, comprised of everyone from corporate executives and decision makers to small and mid-sized businesses and individual entrepreneurs. WebmasterRadio.FM's stellar line-up of radio programming includes "CoverStory" with Jiyan Wei of PRWeb, WebmasterRadio.FM's official newswire; "Market Edge" with W2/Racepoint Group Chairman Larry Weber; Fired Up! with Gordon Rudow of Bonfire Communications; "SEM Synergy" with Search Engine Marketing Industry Leader Bruce Clay and more. To tune into WebmasterRadio.FM's live content or check out the show lineup, please visit http://www.WebmasterRadio.FM.
# # #