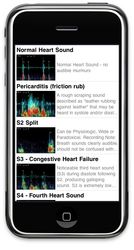 This gives iMurmur 2 a level of realism that typically does not exist in heart sound libraries.
Denver, CO (PRWEB) May 25, 2010
Thinklabs, a leader in digital stethoscope and mobile medical technology, has released iMurmur 2, an iPhone App for learning heart murmurs and other abnormal heart sounds. iMurmur 2 uses real patient recordings to provide authentic heart sounds. The App includes reference waveforms, diagrams and educational material, and is designed as a quick mobile reference for medical students, residents, teaching faculty, and practicing clinicians. iMurmur 2 is also a valuable tool in nursing and EMT communities. The App can be used on Apple iPhone, iPod Touch and iPad platforms.
iMurmur 2 contains many of the features of Stethoscope App by Thinklabs, with multi-touch user interface, real phonocardiographic waveform display, email and annotation capability, and many other features. Stethoscope App, released earlier this year, also provides live sound recording from Thinklabs Digital Stethoscopes, enabling clinicians to capture patient heart and lung sounds at the bedside or office for EMR, research, second opinion, telemedicine, and educational use.
Clive Smith, Thinklabs CEO, explains the genesis of the new App, "iMurmur 2 is a new version of the original iMurmur App, which proved to be so popular in the medical community and a fast-selling medical app on the Apple App Store. iMurmur was originally developed by two creative innovators - Michael 'Fuj' Fujinaka, a medical student at the University of California, San Diego and Alan Gardner, an MIT graduate and founder of Phalanx Development in Boston. I was so impressed with iMurmur as a teaching tool that I decided that, as a leader in the digital stethoscope space, Thinklabs needed to provide iMurmur to our user community. Rather than reinvent the wheel, we acquired iMurmur from Fujinaka and Gardner. We then proceeded to enhance the App with real heart sounds recorded on Thinklabs Digital Stethoscopes. This gives iMurmur 2 a level of realism that typically does not exist in heart sound libraries. Tom Andersen, an expert on user-friendly Mac software and designer of Stethoscope App, then applied his magical touch to give iMurmur 2 a user interface as consistent and user-friendly as Stethoscope App, so that users are at home with both Apps."
Thinklabs is the first company to provide an electronic stethoscope with recording and display of heart and lung sounds on the Apple iPhone and iPod Touch. iMurmur 2 now augments the company's offering with a medical reference tool to make auscultation – listening to heart and lung sounds - even more convenient and accessible.
The Thinklabs ds32a Digital Stethoscope, on which the sounds were recorded, has established a reputation for outstanding audio performance in the clinical, research and telemedicine world. It has even become known in the broadcast industry and is used regularly to capture heart sounds on television shows.
About Thinklabs
Thinklabs specializes in the development of electronic stethoscopes and mobile medical technologies. Thinklabs conducts active research in stethoscope technology and design, and mobile applications for medical devices. The company holds numerous patents in body sound sensing and electronic stethoscope technology. The Thinklabs ds32a is one of the leading electronic stethoscopes on the market today. Visit Thinklabs online at http://thinklabsmedical.com
###