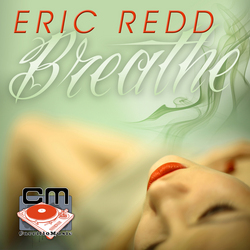 Los Angeles, CA (PRWEB) May 27, 2010
Rock front man and renowned vocalist, Eric Redd releases his single "Breathe" on Carrillo Music.
"Breathe" is a mixture of Redd's rock infused vocals with electronic beats. The song has been garnishing early chart success from Media2Radio Top 10 and support from today's leading DJs and producers.
The single "Breathe" was produced by veteran dance producer Rod Carrillo (Kaci Battaglia, Donna Summer, Rihanna, Snoop Dogg) and features remixes by Albert Castillo, Alex Acosta, Peter Brown, Edson Pride, Dave Matthias, and HavocNdeeD.
"Working with Eric in the studio was a great experience. "Breathe" is a refreshing piece of work and as soon as we finished it, I knew that people all over the world would enjoy not only the song but the true talent that Eric Redd possess," reflects Rod Carrillo on working on the record with Eric Redd.
In support of "Breathe," Eric Redd performed the hit on the Tyra Banks show.
The official release party for the single Breathe will be hosted by Carrillo Music & Groove Temple on June 2nd at Out of Asia in Los Angeles, CA.
The video for "Breathe" was directed by video icon Dustin Robertson, who has been involved with the videos of such artist as Madonna, Lady Gaga, and Jennifer Lopez.
""There's nothing better nor easier for a music video director than to work with an artist and a song they believe in wholeheartedly. So often we are called upon to create visuals for music we KINDA like. "Breathe" is a breath of fresh air in a sea of smog. Eric Redd is not only my dear friend but a legendary & iconic performer who knows how to deliver EXACTLY what his audience wants and needs... excitement and passion. "Breathe" reminded me of why I started making videos to begin with... It's ALL about the music. And this music is wonderful," said Robertson on working on "Breathe" with Eric Redd.
"Breathe" is available at all major online music retailers.
About Eric Redd:
Redd, who got his start in the entertainment industry at the age of 12, has performed with a leading list of celebrities which include K.D Lang, Coolio, The Sara Lee Band and Ani Difranco. Along with a recording career, Redd also had success in musical theater where he received rave reviews for his performances in Cats, La Cage Aux Follies, Body and Soul and the critically acclaimed Dream Girls. In 2008 Redd was asked to join the original Chicago drummer and songwriter Danny Seraphines band, CTA (California Transit Authority) as lead vocalist.
For more information on Eric Redd, please visit http://www.ericredd.com
About Carrillo Music:
Founded in 2007, Carrillo Music LLC is an independent music label and artist management company based out of the United States. All release are distributed internationally and are available at all major online music retailers, many singles have topped major radio and club play charts worldwide.
Carrillo Music artist roster includes: Julissa Veloz, Big Mama Capretta, Eric Redd, Natalia Flores, Ronnie Sumrall, Dave Matthias and Cody Williams.
For more information about Carrillo Music, please visit http://www.dancemusiclabel.com.
###