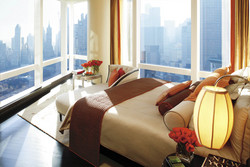 New York, NY (PRWEB) May 26, 2010
Reward your one-of-a-kind Dad with a gift as unique as he is with Mandarin Oriental, New York's exclusive Glenfiddich Getaway for Father's Day. Mandarin Oriental, New York possesses one of only six bottles of the coveted Glenfiddich 50 Year Old available in North America and one lucky Dad will receive this bottle of rare, exceptional single malt scotch whisky as part of the Glenfiddich Getaway for Father's Day package. In its first-ever vatting, Glenfiddich 50 Year Old is a product that comes from 50 years' maturing-time in oak casks to create a one-of-a-kind single malt with a well-balanced nose and a pleasantly sweet woody aroma that progresses to a smooth, fruity finish. It's the ultimate gift for one special Father to savor and enjoy.
The Glenfiddich Getaway for Father's Day package begins with Bentley transport from the airport to Mandarin Oriental, Manhattan's celebration destination of choice. As he's welcomed in his Premier Central Park View Suite with stunning views of Central Park and the Manhattan skyline, this special Dad will be presented with his own personal bottle of Glenfiddich 50 Year Old Single Malt Scotch Whisky and an exclusive, one-of-a-kind gift from Glenfiddich. To top off his night of once-in-a-lifetime experiences, restaurant Asiate's Chef de Cuisine Brandon Kida will prepare a four-course Chef's Tasting dinner for two crafted to pair with Glenfiddich's 15, 18, 21 and 30 year old scotch marques.
Priced at USD 33,100, the Glenfiddich Getaway for Father's Day package is bookable throughout the month of June for a stay between June 1, 2010 - September 6, 2010. This package is available for a single booking only and includes:

One night accommodation in a Premier Central Park View Suite
Bentley transfer to and from the airport
One bottle of Glenfiddich 50 Year Old Single Malt Scotch Whisky
An special, exclusive gift from Glenfiddich
Chef's Tasting four-course tasting dinner for two with Glenfiddich scotch pairings in restaurant Asiate
This package rate does not include tax and service charges and is based on availability. Additional nights may be booked at prevailing rates. The Glenfiddich Getaway for Father's Day package is available for one booking only and cannot be combined with other offers. For reservations, call toll free at +1 (866) 801 8880 or 1 (212) 805 8800.
About Mandarin Oriental, New York
A stunning fusion of modern design with stylish Oriental flair, Mandarin Oriental, New York features 248 elegant guestrooms and suites — all with breathtaking views of Manhattan and Five-Star hospitality. Luxurious amenities include Asiate, the hotel's elegant restaurant; MObar created by noted interior designer, Tony Chi; the Lobby Lounge with dramatic views of Central Park; a 14,500-square-foot, Five-Star Mandarin Oriental Spa; and a state-of-the-art fitness center with a 75-foot lap pool. In addition, there is premium meeting and event space, including a 6,000-square-foot pillar-less ballroom with three walls of windows overlooking Central Park. Located in Columbus Circle's Time Warner Center, Mandarin Oriental, New York is in an idyllic location just steps away from world-class dining, shopping and entertainment, including the Broadway Theater District, Lincoln Center, Central Park, Jazz at Lincoln Center and the Time Warner Center's collection of upscale retail shops and restaurants.
Glenfiddich is the most awarded single malt Scotch whisky at major international competitions and is widely recognized as being the standard to which all others aspire. Established by William Grant in 1887, Glenfiddich is an independent, family-owned business run by the fifth generation of William Grant's family. This independence allows the distillery creative freedom to develop new expressions of the Glenfiddich range, including the rare and precious Glenfiddich 50 Year Old.
Mandarin Oriental Hotel Group is the award-winning owner and operator of some of the world's most prestigious hotels, resorts and residences. Mandarin Oriental now operates, or has under development, 42 hotels representing over 10,000 rooms in 26 countries, with 17 hotels in Asia, 14 in The Americas and 11 in Europe and North Africa. In addition, the Group operates, or has under development, 14 Residences at Mandarin Oriental, connected to the Group's properties.
Photography of Mandarin Oriental is available to download, in high and low resolution, in the Photo Library of our Media section, at http://www.mandarinoriental.com.
###