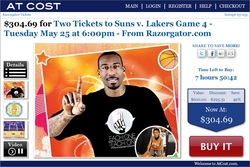 AtCost's new partnership with Razorgator Tickets and NBA Star Amar'e Stoudemire represents a new paradigm in group buying. This is the perfect way to leverage online fan bases to provide value to everyone," said Michael Reinstein, CEO, AtCost.com.
Phoenix, AZ (PRWEB) May 25, 2010
While Amar'e Stoudemire is taking it to the next level on the court during the Western Conference finals, he is also breaking new ground as a Social Media Entrepreneur. Already known for viral web campaigns with the likes of comedian David Spade (http://amarestoudemire.com/media/stat-tv/campaigns/), Amar'e Stoudemire is now the first celebrity to utilize online group buying as a means to reward his fans. Starting Thursday May 20th, Amar'e offered group buys on playoff tickets for Game 3 and Game 4 in Phoenix, AZ directly on his Facebook page at http://www.facebook.com/amarestoudemire.
"As an agency that specializes in talent management and online direct marketing, we needed a unique solution to offer the products and experiences Amar'e believes in to his fans. This initiative puts Amar'e at the forefront of celebrity direct marketing," said Anthony Rodriguez, CEO, Lineage Interactive.
AtCost.com's group buying technology enables fans to participate and make purchases without ever leaving Amar'e's Facebook page. It is also the only group buying platform where fans can get an instant discount just for sharing the deal with friends. The more people Amar'e's fans share deals with using Facebook, Twitter or email, the more they will instantly save.
"Group buying is about bringing people together for a collective benefit. Celebrities like Amar'e have vast fan bases that they can directly engage through social media. AtCost's new partnership with Razorgator Tickets and Amar'e represents a new paradigm in group buying. This is the perfect way to leverage online fan bases to provide value to everyone," said Michael Reinstein, CEO, AtCost.com.
"Razorgator Tickets is thrilled to partner with Amar'e in providing his fans amazing NBA tickets at terrific prices on Facebook. It's a cutting-edge approach to ticketing, and we're excited to use At Cost.com technology to help celebrities reward their loyal fans through social media," said Greg Nortman, Razorgator Tickets Senior Director, Business Development.
When asked about this joint venture, Amar'e said, "I chose to partner with AtCost.com and Razorgator Tickets because they can offer my fans the best experience possible. I thought this would be a great way to give back to the fans that have supported the team all season and get them out for Games 3 and 4. I also look forward to using this new technology to offer my fans additional group buying opportunities."
ABOUT AMAR'E STOUDEMIRE
At age eight, Amar'e Stoudemire would get in trouble for writing "NBA" on his school walls in crayon. He knew then what the world would learn eleven years later, that he was destined for the pros. Attending six high schools, Amar'e decided to work hard and make a name for himself on the basketball court. Widely considered one of the best high school players in the country, Amar'e Stoudemire was selected ninth in the 2002 NBA Draft by the Phoenix Suns. His ability to adjust and learn helped him become the first player to be drafted out of high school to win the NBA Rookie of the Year Award.
Amar'e Stoudemire is a well-respected professional basketball player who has not only left his mark on the game, but also on the community through his award winning outreach. He has recently been named a Good Will Ambassador to the country of Sierra Leone. The Amar'e Stoudemire Each 1 Teach 1 Foundation, Amar'e has been able to provide needed resources for students, AAU programs, basketball tournaments and projects abroad. In addition, he has worked with a team to create a virtual classroom to educate youth on how to manage their lives and finances as well as explored his diverse musical interests by creating a record label called Hypocalypto.
For more information about Amar'e Stoudemire or his Each 1 Teach 1 Foundation, please go to:
AmareStoudemire.com
http://www.facebook.com/AmareStoudemire
http://www.twitter.com/amareisreal
http://www.amarestoudemire.com
ABOUT LINEAGE INTERACTIVE
Lineage Interactive creates, develops, and grows sustainable brands online. Specializing in celebrity talent, Lineage Interactive capitalizes on digital platforms and emerging technologies to activate brands among fans, consumers and corporate sponsors. Lineage Interactive bridges the gap between Hollywood and Silicon Valley by pairing technology companies with high-profile influencers and early adopters. Lineage Interactive is a subsidiary of Lineage Management, which specializes in the representation of actors, writers, directors, and athletes.
http://www.lineageinteractive.com
ABOUT ATCOST.COM
AtCost.com has developed a self-service social shopping platform that empowers anyone to create customized Group Buying opportunities on Facebook and concurrently across the web. AtCost's patent-pending distributed commerce technology makes it possible for consumers to make impulse purchases directly inside the Facebook platform (either on a fan page or directly on a "wall" or newsfeed) as well as across the web in embeddable display ads and banners. The AtCost platform includes a groundbreaking instant discounting system that rewards customers with deep discounts at the point of sale when users "share" offers with friends via Facebook, Twitter or E-mail. The more people users share the deals with, the more money they instantly save.
AtCost also operates http://www.atcost.com, an online shopping resource and newsletter, which finds and reports on unique 'daily deal' offers in more than 60 cities across the United States, United Kingdom, Canada and Australia. AtCost.com provides consumers with a free, fast and simple way to find the best offers available online from sites like Groupon.com, LivingSocial and MyCityDeal. Atcost.com is based in Beverly Hills, California.
http://www.atcost.com
ABOUT RAZORGATOR Razorgator tickets offers premium, Hard-to-Get® tickets and VIP experiences for live events worldwide. Fans continually trust Razorgator Tickets to deliver a great experience—from ticket purchase to live event. This includes guaranteeing the authenticity of tickets, on-time delivery, attentive customer service, and, of course, offering amazing tickets at great prices. We operate large fan-to-fan exchanges on both Razorgator.com and TickCo.com, allowing you to conveniently and safely participate in—and benefit from—an incredibly dynamic ticket marketplace. For serious sports buffs, our PrimeSport division provides deluxe experience packages for major events like the NCAA Final Four, the Rose Bowl, and the Super Bowl. Above all, we at Razorgator Tickets are passionate sports and music fans just like you, so we understand what it takes to transform every ticket into an unforgettable experience. We leave nothing undone in our effort to ensure that our customers have a fantastic time, every time.
http://www.razorgator.com
###