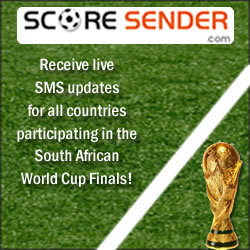 The Fifa World Cup is the most popular sporting event in the world, but we can't all watch the games. ScoreSender solves that problem.
(PRWEB) May 27, 2010
Don't let a lack of TV or internet access or different time zones get in the way of your World Cup – you'll never miss a goal, full-time result or sending off thanks to Scoresender.com. Ideal for those unable to watch every match or wanting to keep a close eye on the competition, ScoreSender notifies you of goals by sending SMS messages within 15 seconds of any event, giving you the latest results from South Africa direct to your fingertips. Scorefinder.com even works when you're at work, with a discrete mobile phone message saving you from logging on every five minutes and wondering what the score is.
Scorsender.com can be accessed using over 600 mobile networks in 120 countries around the world. Users simply sign up at http://www.ScoreSender.com to get updates for their chosen teams and can choose as many teams as they wish at no extra charge. The Scoresender.com website is available in four languages, with payment received in 6 currencies.
"The Fifa World Cup has always been the most popular sporting event in the world, but the 2010 World Cup in South Africa is set to break new grounds in terms of sports coverage. We created Scoresender.com as we believe SMS is the perfect medium with which to deliver real time sporting news to football fans the world over. Whilst not everyone has instant access to a television or computer, mobile phones are with you all the time, so as long as you've got your mobile, you can feel like you're right there in the stands," says Omar Syed, ScoreSender.com co-founder.
NOTES TO EDITORS: ScoreSender.com is in no way affiliated with Fifa or an official sponsor of the 2010 Fifa World Cup.
###