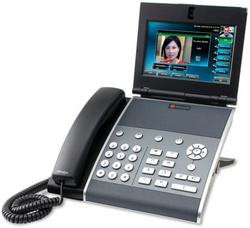 Broadcore's business-class video calling solution integrates video into the voice telephony infrastructure by extending the same user experience our customers have come to expect from our existing communications services
Los Angeles, CA (Vocus) May 27, 2010
Broadcore, a national provider of business-class hosted unified communications services, today introduced advanced video calling as part of its suite of business communications services. The easy to use one-touch video service utilizes advanced SIP technology to power desktop color video phones with the same call control functionality usually found in voice telephony solutions including transfer, hold, forward, mute, and conference.
"Broadcore's business-class video calling solution integrates video into the voice telephony infrastructure by extending the same user experience our customers have come to expect from our existing communications services," said Michael Bacich, Broadcore's Director of Sales. "Placing a call with video is now as easy and reliable as making a phone call, with the advantage of viewing the body language, improved collaboration, and faster decision making."
Broadcore's Unified Communications service has successfully passed interoperability tests with the Polycom® VVX® 1500 business media phone which combines advanced telephony, one-touch video, and integrated business applications into a seamless, lifelike experience.
"We're delighted that Broadcore has certified the VVX 1500 for interoperability with its hosted UC platform," said Tim Yankey, senior director of solutions marketing at Polycom. "The VVX 1500 has transformed the desktop phone experience from a voice-only interaction to a fully interactive, face-to-face communication experience without compromising the simplicity of placing a call."
Broadcore's cloud-based Unified Communications service includes business VoIP solutions, managed and private Class of Service (CoS) and Quality of Service (QoS) networks, contact center offerings, conferencing bridge solutions, call detail reporting abilities, instant messaging (IM), presence, and a variety of other hosted communications services.
About Broadcore
Broadcore is a provider of hosted unified communications services for businesses. Through an extensible, highly scalable IP communications system, Broadcore offers a unified communications platform for voice, data, and mobility communications across the enterprise and multi-location businesses. Broadcore's solutions allow the enterprise to increase employee productivity, accelerate business processes, and improve customer care through tight integration of dispersed communications endpoints for office, mobile, or call center employees.
Broadcore offers lowered total cost of communications ownership by assuming the cost burdens associated with data redundancy, infrastructure expansions, technology obsolescence risks, system scalability, and new feature integration and updates. By removing the costs associated with infrastructure and additional IT staff to maintain increasingly complex communications technologies, Broadcore allows its clients and their IT organizations to focus on their core competencies while remaining current with the latest communications technologies. For more information about Broadcore, visit http://www.broadcore.com.
Broadcore contact:
Dean Manzoori
Broadcore, EVP Marketing Strategy
310-360-2040
###