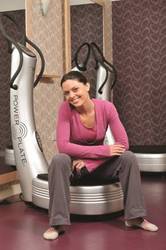 "The Movers & Shapers boutique on the Second Floor joins a range of chic lifestyle services dotted around Fenwick.... Here our customers can shop, workout, beautify, meet and eat in relaxed, luxurious surroundings."
(PRWeb UK) May 26, 2010
Fashionista alert! Found the perfect dress? Enjoyed a little too delicious a lunch? Now you can work it all off before leaving the store. 24th May 2010 sees the launch of a new concept in retail therapy as Movers & Shapers opens its doors in Fenwick Bond Street, Mayfair. Male and female shopaholics can book in for a bespoke personal training session while experiencing five floors of chic, beauty, fashion, eateries and the ultimate in pampering services.
What is Movers & Shapers?
Three years ago the first Movers & Shapers opened its doors in London with an innovative approach to helping clients tone, lose weight and increase fitness levels. The company provides Instructor-led sessions and personal health monitoring using Fitbug technologies and the celebrity's favourite workout machine, Power Plate. No stress, no crash dieting, no tough trips to the gym: just two one-to-one 30 minute sessions a week in the Movers & Shapers boutique studio and a steady increase in activity is all it takes for proven results. Now with seven boutiques and hundreds of energised clients, Movers & Shapers brings its unique approach to lifestyle exercise to its first in-store location, Fenwick Bond Street.
About Fenwick
The Movers & Shapers boutique on the Second Floor joins a range of chic lifestyle services dotted around Fenwick following its major two year refurbishment. Customers can also enjoy the Clarins Skin Spa, Chantecaille Healing Spa, Blink Brow Bar, Headmasters Blo Out Bar, Nails Inc Nail Bar, Pure Massage, John Gustafson's Personal Make-up Service alongside Carluccio's Caffe & Deli and the new restaurant, Bond & Brook, a project by Fay Maschler.
Jill Strieder, Managing Director, Fenwick Bond Street said: "I am delighted to add Movers & Shapers to our portfolio of lifestyle services. We strive to surpass our customers' needs by gathering all the most innovative, highest quality elements under one roof, right in the heart of Mayfair. Here our customers can shop, workout, beautify, meet and eat in relaxed, luxurious surroundings."
Movers & Shapers at Fenwick Bond Street opens on the Second Floor on 24th May. Customers can book in for an introductory session by calling 020 7491 0869 or visiting http://www.moversandshapers.net
Press Office: Ben Margolis on 07989 411 642 or 020 7449 4960 / bmargolis(at)moversandshapers(dot)net
Additional notes
Movers & Shapers is a groundbreaking upscale high street concept for health and fitness services combining fast-track resistance training with convenient cardiovascular exercise and nutrition tracking to provide a complete and personalised approach to weight loss, toning and fitness. The concept utilises Power Plate and Fitbug technologies.
The results speak for themselves....
After just six weeks of Movers & Shapers sessions average client body fat reduced by 4%; waist size slimed 1.5 inches and upper arm circumference toned by an inch. Furthermore, clients have continued to see sustainable improvements in their health and well-being as they continue with their sessions.
Developed by some of the industry's leading figures it delivers small group training programmes and one-to-one training from eight locations including West Hampstead, Muswell Hill, Barnes, Stanmore, Stratford-upon-Avon, Winchester, Solihull, and now, Mayfair.
###