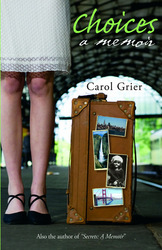 "Just pull up your socks and get on with life."
Beaverton, OR (PRWEB) May 27, 2010
Just "pull your socks up" and get on with life
Have you ever felt like life is too hard and you can't get going again? Author Carol Grier has been there many times throughout her long and colorful life. Yet, each time, with each new challenge, she has found a way to just "pull her socks up" and keep going. In her new book, Choices – A Memoir (Renaissance Print, April, 2010), Ms. Grier takes the reader along on the fascinating journey that has become her life. Her grit, determination and humor have become the hallmarks of her life that have given her such great insight into the human spirit.
Growing up during the depression wasn't easy for anyone, but for a young woman from rural Idaho, being thrust into the chaos of New York City almost without a thought, is life-changing – especially for a young bride-to-be. If it wasn't for the humbling effect of growing up amongst the natural majesty of Yosemite National Park, she might not have been able to face life's challenges with such reverence, courage, strength and the will to thrive. Carol takes the reader along as she talks about real-life issues including:

Living through the depression
A philandering husband
Finding that her only child was gay
Drug abuse throughout the family
Managing a new life with difficult step-children
From these experiences, she has experienced life to the fullest; both suffered and survived – and stronger for the lessons learned. She takes the reader through it all – the good times and bad, illness and death, love and infidelity.
Her life is a compelling journey you don't want to miss, and Carol is a woman you definitely want to know. To learn more about this book that will tug at your heart, or to receive a review copy, or to book the author for an interview, go to the website http://www.choiceswehave.com.
Contact: Carol Grier
Renaissance Print
Email: carol.grier(at)comcast(dot)net
(503) 520-1476
###