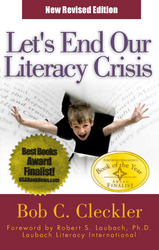 Even the skeptic should take heed to his counsel...This is the time for concerted action on the part of all. [His proposed solution] may well become the Reformation of the 21st Century. Dr. Robert Laubach, Pres. Emeritus of Laubach Literacy International
Salt Lake City, UT (PRWEB) May 27, 2010
A recent analysis of the most accurate and extensive study of U.S. adult literacy ever commissioned by the U.S. government proves that 48.7% of U.S. adults (more than 93 million of them) are functionally illiterate, defined as being unable to read and write well enough to hold an above-poverty-level-wage job. Equally shocking is the fact that 31.2% of these individual functional illiterates are in poverty. The percentage of all U.S. adults in poverty, using these figures, is 48.7% times 0.312, or 15.2%, which is in close agreement with total adult poverty estimated by other means. This recent analysis also shows that illiterates are more than twice as likely to be in poverty as a result of illiteracy as for all other causes combined. We do not see this level of illiteracy and its resulting poverty because illiterates are very good at hiding their illiteracy, because most families have more than one employed adult, and because most low-income families receive financial help from government agencies, family, friends, and charities.
After many years of research, Literacy Research Associates, Inc., a non-profit educational corporation, and NuEnglish, Inc., a non-profit educational corporation and a 509 (a)(2) private charity, have discovered and perfected a method of teaching reading which has been proven effective in more than 313 alphabetic languages. Although adopting this method of teaching reading would save at least $5186 per year for every U.S. adult—reader and non-reader alike, although this method has been advocated by numerous educational and linguistic scholars for more than two centuries, although 33 advanced as well as developing nations both smaller and larger than the U.S. have made the recommended changes, although several distinguished scholars have thoroughly debunked all reasonable objections to this change, although technological advances around the world have made English literacy more necessary than ever because English is the only "global" language (it is used more than any other to communicate with those who do not speak a person's native language), and although present computer advances have made such a change easier than ever, because of the natural resistance to change and English-speaking countries' pride in "our mother tongue," it has never been tried in English.
Although the proposed change is very simple, the justifying facts are numerous and somewhat complicated. A thorough, honest analysis of these justifying facts is necessary because what NuEnglish, Inc. is proposing is contrary to conventional wisdom. Conventional wisdom is what most people believe, regardless of the facts of the matter—many years ago, conventional wisdom was that the earth was flat. Also, although the facts in this news release may seem either too bad or too good to be true, a careful analysis will easily verify every statement made. Almost everyone believes the saying, "If something sounds too good to be true, it probably is." That being the case, merely scanning the information in our website, http://literacy-research.com, or information about our book, Let's End Our Literacy Crisis, Revised Edition found on the Amazon.com detail page, http://www.amazon.com/dp/1589824970, may not be sufficiently convincing to bring about the type of "grass roots" changes necessary to solve our very real literacy crisis. Only a careful, honest analysis of the Preface and all 162 pages of the text of Let's End Our Literacy Crisis and a perusal of the 57 pages of the 10 Appendixes will give you all the information needed to bring about the permanent change in our teaching method for reading that is so desperately needed. Reading fluency is the foundation of all learning and is necessary for class-work, homework, and testing. Lack of reading ability is an often unrecognized cause of school drop-outs and results in the graduation of over a million students a year from high school who cannot even read their diploma.
For more information on our humanitarian project for ending English illiteracy, contact Bob C. Cleckler, B.S.Ch.E., CEO of Literacy Research Associates, Inc., author of three published books on ending illiteracy which were totally financed by the publishers and one self-published book, toll free at 877-I READ 2 U (473-2328) or at literacy_research(at)msn(dot)com or Gary Sprunk, M.A. English Linguistics, President of NuEnglish, Inc. at 5750 N 10th St. Unit 10, Phoenix, AZ 85914-2270.
###