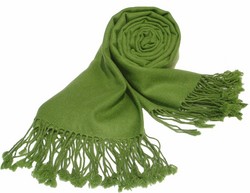 "Although the techniques used for making the scarves may be centuries old, The Pashmina Store's technology for selling them online is most certainly not," said Jordan Speer, Editor in Chief of Apparel Magazine. "These advancements and their agility in pro
Houston, TX (PRWEB) May 27, 2010
The Pashmina Store http://www.thepashminastore.com, an online retailer offering luxury cashmere products at value prices, today announced it was selected as one of America's Top Innovators by Apparel Magazine. The May issue of Apparel features 31 companies who've shown ingenuity in overcoming challenges, an ability to adapt to change and tap into consumer desires in a highly competitive global marketplace.
The Pashmina Store was highlighted for its advancements in product merchandising, made possible by the Volusion ecommerce platform, which enables the company to easily add, manage, promote and close sales on new products. The Pashmina Store expanded beyond traditional pashminas in 2008 and now includes cashmere and cashmere/silk blend pashminas in more than 50 different colors and a variety of sizes, cashmere baby blankets, decorative throws and classic scarf prints, such as houndstooth and jacquard patterns. The speed of the Volusion platform also allows The Pashmina Store to cut losses and quickly add to gains by expanding on successful products.
"We've learned that agility is critical to thriving in today's ecommerce environment, said Blair Rhodes, co-owner of The Pashmina Store. "Our product mix is constantly evolving as we meet new customer demand and stay abreast of the latest trends in cashmere accessories and apparel. Our products couldn't compete with the largest specialty department stores if we didn't have the powerful platform Volusion provides."
The Pashmina Store has also enhanced the shopping experience for its customers by adding multiple product shots that allow them to closely view the fine cashmere and silk fabrics so they feel more comfortable with their purchase.
"Although the techniques used for making the scarves may be centuries old, The Pashmina Store's technology for selling them online is most certainly not," said Jordan Speer, Editor in Chief of Apparel Magazine. "These advancements and their agility in product merchandizing helped distinguish The Pashmina Store as an Apparel Top Innovator."
About The Pashmina Store On the web since 2001, The Pashmina Store has been proud to offer the finest quality pure pashmina and pashmina/silk blend blankets, shawls, wraps, scarves and cashmere blankets. Customers enjoy the entire experience with quality products at exceptional values, free standard shipping in the U.S. from Texas, and a satisfaction guarantee.
Media Contact: Erin Gilmore 512-466-4559 ebgilmore(at)gmail(dot)com
###