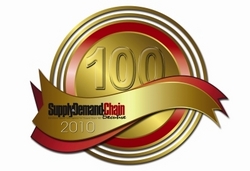 Charlotte, NC (PRWEB) May 26, 2010
Integration Point®, Inc., a provider of global trade compliance and management solutions, has been recognized in the 2010 Supply & Demand Chain Executive 100, "Supply Chain: Back to Basics and Beyond – In Search of the Roots of Supply Chain Excellence." Organizations in the Executive 100 are supply chain solution and service providers that are assisting their customers in achieving supply chain excellence and helping prepare their supply chains for the post-recessionary return to growth.
Companies utilize Integration Point Global Trade Management solutions to attain supply chain excellence through automation of processes, sharing of data and connecting with supply chain partners via the web. Integration Point consistently provides flexible and reliable technology to facilitate the management of increasingly complex global trade compliance. Members of the trade community can save time, avoid potential errors, and reduce costs all while adhering to Customs and other government agencies requirements.
"As Global trade expands, companies need the tools to operate in the most efficient manner possible," said Tom Barnes, CEO of Integration Point, Inc. "We are committed to continue expanding our Global capabilities in order to best facilitate trade."
About Supply & Demand Chain Executive
Supply & Demand Chain Executive is the executive's user manual for successful supply and demand chain transformation, utilizing hard-hitting analysis, viewpoints and unbiased case studies to steer executives and supply management professionals through the complicated, yet critical, world of supply and demand chain enablement to gain competitive advantage. On the Web at http://www.SDCExec.com.
About Integration Point, Inc.
A leading provider of global trade management solutions, Integration Point, Inc. assists international companies by providing import and export visibility globally, delivering up-to-date global regulatory information and facilitating connectivity to supply chain partners and government agencies around the globe. Built on a single, web-based platform, Integration Point allows organizations to secure their supply chain and comply with global regulatory requirements while improving visibility and realizing savings opportunities. Integration Point Global Trade Management includes solutions for: import/export management, supply chain security, entry validation, restricted party screening, product classification, free trade agreement qualification and duty deferral program management (US FTZ, Mexico Maquiladora, EU Customs Warehousing, etc.) Contact Integration Point at http://www.IntegrationPoint.com or 704-576-3678.
###