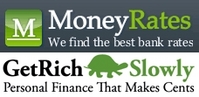 Add a quotethe most encouraging outcome of this poll is that most people are standing pat in the face of recent volatility.
Foster City, CA (PRWEB) May 26, 2010
The road to recovery has been bumpy on Wall Street, but many Main Street investors aren't panicking in face of recent stock market upheaval. Financial sites MoneyRates.com and GetRichSlowly.org polled their visitors and discovered that a minority are pulling out of stocks.
The websites' poll asked, "How are you reacting to the recent volatility in the stock market?" MoneyRates.com and GetRichSlowly.org visitors responded:

"Perhaps the most encouraging outcome of this poll is that most people are standing pat in the face of recent volatility," said MoneyRates.com personal finance expert Richard Barrington. With the poll being conducted on the heels of the nearly 1,000-point "flash crash" of the Dow Jones Industrial Average on May 6, it appears that investors aren't making any rash decisions with their money.
Financial experts have long advised stock market investors to consider the long-range growth of stocks instead of focusing on short-term peaks and valleys. In the wake of the current recession, it appears that savvy investors are taking that advice. Rather than pulling money from the market and missing the rebound, they are sitting tight or even increasing their portfolio shares.
"It's true that market declines can represent buying opportunities, but overall the stock market is no lower now than it was a couple months ago," Barrington observes. "There's certainly no cause to hit the panic button, but there hasn't yet been a significant enough lowering of prices to justify a substantial increase in stocks either. I think the majority of respondents who are standing pat have got it right."
Further analysis by Barrington on the implications of the poll results and asset allocation strategies can be found in his article on MoneyRates.com, "How Do People React When the Stock Market Goes Crazy?"
MoneyRates.com is a consumer information web site providing tips on saving and banking as well as interest rates on more than 200 banking products. It has been a leading source of information on bank rates, personal finance, savings accounts and investing since 1999. Visitors to MoneyRates.com can research the highest CD rates, savings account rates and money market rates.
GetRichSlowly.org is an online community devoted to sensible personal finance. Since 2006, GetRichSlowly.org has provided thousands of active readers with a forum to learn about and discuss saving money, how to get out of debt, finding the best high-yield savings accounts and pursuing practical paths to accumulating wealth. The site is among "The Top 100 Personal Finance Websites," according to Liz Weston of MSN, and has been named "The Most Inspiring Money Blog" by CNN's Money magazine.
Richard Barrington is available for interviews on this topic and other topics relating to personal saving and investing. To interview Richard, please contact:
Jessica Austin
pr(at)moneyrates.com
pr(at)getrichslowly.org
650-578-6880
###