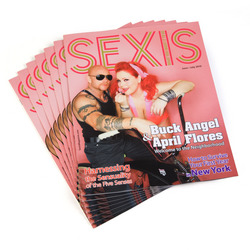 Monroe Township, NJ (Vocus) May 26, 2010
EdenFantasys.com, the online adult novelties store, is proud to announce their online magazine SexIs has released print issue #2, available nationally as a polybag edition with the June/July issue of Bust magazine. Inside, readers will find 24 gorgeous full-color pages of savvy, provocative and humorous fare, such as cover story interviews with both April Flores and Buck Angel, including photo spreads by Carlos Batts; Sinclair Sexsmith with 'How to Survive Your First Year in NYC'; Alicia Bowman on lessons learned from strippers; hilarious disclaimer banners from The Bloggess, an inside look at the most innovative sex toys; a focus on harnessing the five senses, insights into the art of Dana France, plus feature pages on the new erotic Sexis/Cleis Press venture The Naked Reader Book Club; the AIDS Service Center NYC's Safer Sex Party, and much more.
SexIs online is updated Monday through Friday, with stimulating new articles and column posts that keep readers current and thinking deeply. Columns include The Bloggess, who brings her unique wit and wisdom to the frontier of sexuality; 'Tuesdays With Nina'—exclusive weekly video dish on all things carnal from XXX legend, Nina Hartley; Em & Lo with Sex Ed for Grownups; Midori's Postcards from a Sex Nerd—a new take on travelogues; Buck Angel gives you 'More Bang for Your Buck' in his no-holds-barred posts; Rachel Kramer Bussel's behind-the-scenes diary, 'Secrets of a Sex Writer'; Sinclair Sexsmith regales readers with a love-story take on romancing NYC; and Lorna Keach treats us daily to the SexFeed—all the sex-related news you need.
Look for poll results from the EdenFantasys forum, Twitter blurbs from many SexIs and Eden followers, and snippets of product reviews by the actual people who've tried the toys and notions peppered throughout the magazine. EdenFantasys.com, a retailer well known for its successful community-based marketing program relies on community members and reviewers for feedback and creative input that informs everything they do.
To get a copy of SexIs in print, simply pick up the latest issue of Bust magazine, and you'll find SexIs polybagged with it. (Available at: Barnes & Noble, Borders, B. Dalton, Books-A-Million and Whole Foods), or just email the staff to request a free copy of SexIs—sent directly via post!
The next edition of SexIs print will be 24 full-color pages, on shelves nationally polybagged with the October/November issue of Bust Magazine.
###