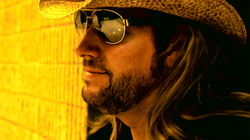 "I had such a blast shooting this video and I think it embodies the spirit of the song perfectly."
Nashville, TN (PRWEB) May 26, 2010
Krankit Records recording artist Anthony Smith unveils the new video for his chart rising single "Love Is Love Is Love," this week. Director Marcel Chagnon (Clay Walker, Jessica Andrews) captured the essence of this sure-to-be summer anthem, taking the shoot down to the beaches and open waters of the Bahamian Islands.
"I had such a blast shooting this video and I think it embodies the spirit of the song perfectly." says Smith. "It's happy, it's fun and it's carefree. It's going to make you move, and it's going to make you react and feel something. I am excited for people to see it. I want them to react, I want them to smile."
The song which critics are hailing "the single to return Anthony Smith into the Top 10 of the country singles charts" is already headed in the right direction, written by Smith and Eric Silver, "Love Is Love Is Love" is the leadoff single for his label debut Sunshine, scheduled for an early fall release.
Anthony will also be performing at the celebration for Tennessee's Habitat for Humanity's 3,000th home for Wanda Brewster at 4:00 PM on Wednesday, May 26th at 249 Shirley Ford Road in Robbins, TN. Wanda, who is sixty years old and on disability, came to Appalachia Habitat after being devastated when her mobile home of 25 years burned to the ground. "I'm honored to have been asked to participate in this milestone for Tennessee and for Habitat for Humanity. There are so many people in need of a home, especially after the floods we've had here, that it's important to support organizations like this which helps people get back on their feet sooner." says Smith.
About Anthony Smith
Anthony Smith's debut record, If That Ain't Country, was one of the most critically acclaimed country records of the past decade. The release of three Top 40 songs from that album earned Anthony a place among Nashville's highly-regarded new artists, and he has long been one of the most respected songwriters on Music Row. Performing shows described as "intensely entertaining," this ground-breaking artist is not another Nashville sound-alike but a true original and a must-see performer.
Anthony Smith is writer on many hit songs, including George Strait's "Run" and "Cowboys Like Us," Trace Adkins' "Chrome" and "I'm Tryin'," Rascal Flatts' "My Worst Fear," Tim McGraw's "Kill Myself" and current single "Kristofferson," Montgomery Gentry's "What Do Ya Think About That?" and the song "Didn't I?" for the Mel Gibson film We Were Soldiers. The list goes on to include songs recorded by Trisha Yearwood, Gretchen Wilson, Wynonna, Lorrie Morgan, Faith Hill, Van Zant, Lonestar and many others.
The first single from Anthony's highly-anticipated new release on Krankit Records, "Love Is Love Is Love," is a rocking good time and is sure to spread the love for Smith this summer. The album, Sunshine, is set for release in early fall. http://anthonysmith.com/
About Appalachia Habitat for Humanity
Appalachia Habitat for Humanity is a Christian partnership whose goal is to restore pride and stability into the community by building and financing quality affordable housing for all low income persons in Scott and Morgan Counties, Tennessee.
About Habitat for Humanity of Tennessee
Habitat for Humanity of Tennessee is a statewide organization that supports the efforts of Tennessee's 52 Habitat for Humanity affiliates serving 61 counties who build over 200 houses a year. HFHT , as well as all Habitat affiliates operate under the umbrella of Habitat for Humanity International, which since 1976, has built more than 300,000 homes in 101 countries. http://habitattn.org/
###