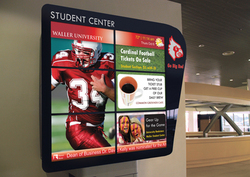 "There is no one-size-fits-all approach to wayfinding, so we work with our clients from start to finish to make sure that their signage works for them and with them, not against them."
Dallas, TX (PRWEB) May 27, 2010
ASI, the leading firm in the signage industry, understands that an efficient and easy to understand wayfinding system is critical to interior signage solutions. Today's busy customers demand more efficiencies in their experiences with the businesses they patronize, whether it's a shopping mall, hospital, school, or airport. Now, institutions of any size have an innovative, cost-effective and flexible solution to their wayfinding needs: digital signage. With 45 years of experience and expertise behind it, ASI has always been on the cutting edge of wayfinding technology. Now, ASI has created an extensive offering of turnkey digital signage to address the market's interest for easy-to-use digital signs.
The appeal of digital signage lies in its inherent versatility. Hospitals and clinics, many of which experience almost-daily changes in their architectural layout because of expansion and construction, love the flexibility that digital signage affords them. Directional information and graphics can be modified to accommodate these changes and the resulting shift in traffic patterns, all while maintaining the facility's overall brand identity. For many visitors and patients, the healthcare environment can be stressful enough; appropriate and consistent signage provides them with the comfort and security to help them find their way smoothly throughout the facility while also minimizes staff interruptions.
Educational institutions, many of which are also experiencing the excitement and urgency of rapid change, are also discovering the distinct appeal of digital signage. The steady flow of visitors, staff, faculty, and students throughout a campus requires an intelligent and comprehensive wayfinding solution that adequately addresses fluctuating traffic patterns. In addition, digital signage can also provide news to the campus community that can be easily updated as the need arises. Donor recognition offers yet another opportunity to maximize the use of digital signage, as donor lists can be quickly amended to reflect new information.
"Digital is complex, but we have worked to develop a streamlined, user-friendly process and provide scalable systems solutions to meet our client's needs," said Kelly David, director of marketing and product management with ASI. "We recognize that each facility has unique requirements, from traffic patterns, growth plans, expansion needs, and interior architecture. There is no one-size-fits-all approach to wayfinding, so we work with our clients from start to finish to make sure that their signage works for them and with them, not against them."
ASI prides itself on its consultative approach in finding the right solution for its clients. ASI's wayfinding experts work in partnership with clients to determine everything from a facility's traffic flow to the client's unique branding needs, from the type of material used to the client's future expansion plans. To ensure the final signage solution can be properly maintained, ASI's exclusive and comprehensive Online Ordering Service makes it easy for clients to order additional products through an online catalog customized with their logos and branding requirements.
"Whether you want to update your current signage to a digital solution, you want to find out more about how to make your visitor experience more relaxing and welcoming, or you simply want to learn about sustainable signage options, we can help you find exactly what you need," said David. "It's not about adding more signs--it's more about having relevant signs that fit your environment."
About ASI
ASI provides consultative services for comprehensive wayfinding and identity solutions to companies throughout the U.S. and the world. ASI is focused on providing healthcare, hospitality, education, and corporate clients with interior, exterior and digital signage and services tailored to meet their exact needs today and in the future.
Headquartered in Texas, the company is represented in more than 40 U.S. cities, with global partners in 35 countries. For more information regarding ASI and featured products, visit asisignage.com, or contact ASI Corporate by phone at 214-352-9140 or email marketing(at)asisignage(dot)com.
###