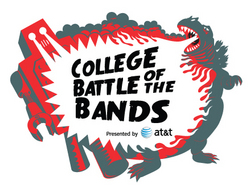 Santa Monica, Calif. (PRWEB) May 26, 2010
The search to find the best student bands and music artists from more than 100 colleges and universities nationwide culminates with a final battle at the world-famous Wynn Las Vegas on Friday, June 11th at 6 pm PST.
Battling for the national title are: South Region winners Apple Trees & Tangerines (Lee University), North Region winners Beyond This Point (Five Towns College), West Region winners The Oregon Donor (Skagit Valley College), and the Wild Card winner Jake Snider (Columbia University). "This year's finalists are incredibly talented and bring together the best in college music from around the country," remarks Evan Shapiro, Executive Producer of College Battle of the Bands.
College Battle of the Bands' is presented by AT&T, with supporting partners Chegg.com, GRAMMY U®, Gibson Guitar, SESAC, and the Elfenworks Foundation, and is open to any student band or music artist currently enrolled in an undergraduate program. The series began during the 2008-09 school year and featured notable artists including: The Local Natives, Mike Posner, Allison Weiss, Daylight Broadcast, and more. Showcasing the best emerging music artists, College Battle of the Bands awards more than $100,000 in prizing each school year.
"Chegg is thrilled to be the presenting stage sponsor for the National Finale, on what should be an unforgettable night," said Tina Couch, VP of Public Relations for Chegg.com.
For more information about College Battle of the Bands and the National Finale, and to listen to submitted music from participating artists, visit http://www.collegebattleofthebands.com
About GRAMMY U
Created by the music community's leading membership organization, The Recording Academy®, GRAMMY University Network (GRAMMY U) aims to prepare students for careers in the recording industry through networking, educational programs, and performance and career opportunities. This network, designed to enhance students' current academic curriculum with access to recording industry professionals to give an "out of classroom" perspective on the recording industry, is a unique and fast-growing community of college students who are pursuing a career in the music industry. For information, please visit http://www.grammy365.com/grammyu.
About Chegg.com
Founded in 2007, Chegg helps solve a pain point for the 18.4 million college students across the U.S. – the high cost of textbooks. The company has grown into a respected and trusted brand used by college students on campuses nationwide. Students who rent all their textbooks from Chegg can save, on average, $500 or more a year. The company has already saved students more than $200 million dollars. Chegg gives students access to 4.2 million textbook titles from our online catalog, lightning fast shipping and free returns. In addition, every time a student rents from Chegg, the company plants a tree on the student's behalf.
# # #