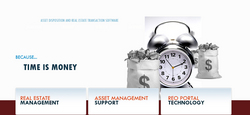 StreamlineREO software is a necessity for successful agents and brokers
San Diego, CA (Vocus) May 27, 2010
StreamlineREO (d.b.a. RealtyTransact), http://www.streamlinereo.com, is proud to announce the official launch of its new software, designed for the busy real estate agent in today's market. Creator and founder of StreamlineREO, Regina Garcia, says for the real estate market to really recover, the large number of foreclosed properties going back on the market will need to be moved quickly, and automating a real estate operation is going to be the key to staying on top.
"StreamlineREO software is a necessity for successful agents and brokers," says Garcia. "You can't rely on the old, manual processes and methods to build and maintain real estate businesses any longer. Our software streamlines processes and meets expanding demands to play an integral role in the current real estate industry crisis."
Garcia points to the numbers. Of the 75.6 million owner-occupied residences in the U.S., 68 percent of them, or 51.6 million, carry a mortgage. Since 2007, 5.4 million of these homes slipped into foreclosure, and without a significant recovery in the economy, 3.5 million or more could foreclose by the end of 2010.
For the real estate market to recover, Garcia says, these properties are likely going to reach the market and it is essential to move this inventory efficiently and reduce the total number of real foreclosures on the market. She says lenders and brokers are being asked to do more in less time. She observes that some brokers and even whole brokerages have not made the adjustments in technology that some asset managers, banks and their clients have, and now they are falling behind. "To be successful and grow, brokers must face the realization that they have to adopt technology to move more properties," says Garcia.
StreamlineREO was specifically launched to address the shortcomings and inefficiencies of the existing products in the marketplace. Other products available grew out of a need to simply get the job done. StreamlineREO was designed and implemented with the entire Real Estate/CRM process in mind.
"At StreamlineREO, we noticed that the products on the market were developed to fill a void, often with a process that only worked well for the original authors. The most popular products today are still missing key functionality like accounting, archiving, event based task assignment, browser independence, interactive offer management, social media integration and lead generation."
StreamlineREO provides complete oversight of the entire real estate transaction to securely capture, and archive agents' real estate transactions. By creating and storing everything in a relational database, it is quick and easy to retrieve and distribute every document needed electronically. StreamlineREO's hosted web-based solution means everything is only as far away as the closest computer, iPhone or BlackBerry, saving time, and most importantly, saving money.
StreamlineREO is offering a 30-day free trial for real estate agents wanting to get organized and bring their businesses and marketing into the modern era.
"If you are faster, and make fewer mistakes than your competition, you will be rewarded with more business. Not just from banks and asset managers, but when the market turns, you will be ready to take the lead with traditional sales as well," says Garcia.
"Collaborate online with teammates, co-workers and third party vendors with ease. Be ready, be prepared and stay focused. Take advantage of the lull in the market to upgrade your manual operation to online efficiency. Be the first to recover," says Garcia. "Automating your operation is the key to 21st century."
For more information on StreamlineREO and to learn about the company's 30-day free trial offer, please visit http://www.streamlinereo.com.
# # #