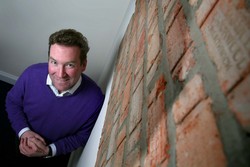 We managed things really carefully so that we could avoid any redundancies during the construction crisis but it was not easy and after two years of flat staffing levels, it's great to be taking on new workers
(PRWeb UK) May 28, 2010
Over the same period, the Richmond-based company has also completed sales on some 20% of its housing stock, comprising a mixture of new projects and older properties that had remained unsold during the recession.
Randall Orchard Construction has already strengthened its 60-strong workforce by recruiting extra tradesmen to deal with the increased demand. Managing Director, Graeme Newton, who has worked in the business for 24 years and took over the firm in 2004, said that recent years had been hard for employment in the industry: "We managed things really carefully so that we could avoid any redundancies during the construction crisis but it was not easy and after two years of flat staffing levels, it's great to be taking on new workers," he explained.
Six major projects make up the new contract wins, which include sports facilities and residential developments in North Yorkshire and County Durham.
Graeme Newton hopes that the recovery will be sustained: "We're thrilled to have seen such a dramatic upturn so far this year, both in terms of new contracts and house sales, and we're optimistic but these are still difficult times for construction so we are taking nothing for granted," he said.
The company, part of the newroc group formed in 2004, has been one of the leading builders in the region since 1976. Based on the Gallowfields estate in Richmond, it specialises in rural projects with expertise in both commercial and residential properties, including a diverse range of renovations, new developments, heritage projects and contracted work.
CONTACT: Lynne Burwell on 01748 825660 or 07974 178773 for more information or to arrange an interview
Interviews: Graeme Newton has worked in construction for 24 years and is available for interview about the recent surge in sales, signs of renewed optimism in housing and his forecasts for the future of the construction sector in the region.
He can give insight into the experiences of an independent, established, mid-sized builder in the region during these difficult times for the sector and the economy as a whole.
# # #