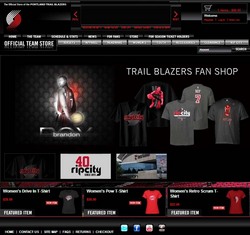 Rochester, NY (PRWEB) May 27, 2010
UniteU Technologies, Inc., a leading provider of integrated, on-demand e-commerce applications, has launched http://www.blazersfanshop.com. The Portland Trail Blazers, commonly known as the Blazers, are an American professional basketball team based in Portland, Oregon. The new website is the official online store of the Portland Trailblazers and offers Authentic Team Sports Apparel and Accessories for Men, Women, Youth and Infant. The site includes a broad selection of Replica and Personalized Jerseys as well as a variety of Outerwear and Headwear.
Since 1999 UniteU has delivered integrated ecommerce solutions to Sports Team Shops including Orlando Magic http://www.orlandomagicshop.com , Houston Rockets http://www.rocketsshop.com, Miami Heat http://www.miamihoopsgear.com, DC United http://www.dcuteamstore.com, and Cleveland Cavaliers http://www.cavsteamshop.com. The UniteU ecommerce platform enables centralized control for Merchants managing multiple offline and online sales and marketing channels. The UniteU platform interfaces with CRM, POS, Accounting, Comparison Shopping Engines, PPC, Affiliate Marketing, Amazon, eBay, Social Networks, Newsfeeds and Blogs, all integrated seamlessly with the UntieU Connected Commerce platform. UniteU works in partnership with each client to develop and support fully featured webstores that streamline back office operations by removing manual processes related to managing multiple independent systems. The UniteU technical team collaborates with a network of trusted partners to deliver each client a custom solution, empowering the merchant with a state-of-the-art ecommerce platform that enables the merchant to continually advance their businesses to the next level.
"It's so much easier now that we added the integration," says Karen Wiatrowski, Director of Retail for Portland Trailblazers. Combining the power of the UniteU ecommerce platform with Microsoft Dynamics Retail Management System (RMS POS), specialty merchants can have a complete point of sale and online retailing solution that's automated. Ecommerce integration with RMS enables team shop staff to manage web transactions in the same process as the point-of-sale operations, improving the efficiency of catalog management, display inventory availability to shoppers and provides added automation of order processing and fulfillment, synchronized with the webstore. UniteU has a proven ecommerce solution that is secure, feature rich, built to drive visitor traffic and increase conversions. Shoppers on the Blazers Fan Shop site are provided multi-tiered navigation, easy search capabilities and a one page checkout, giving the shopper a simple and user friendly online experience.
"We are proud to provide ecommerce solutions that meet the requirements of America's top Sports Teams," said Eric Tyler, VP of Operations at UniteU. "We have the e-commerce tools and technologies to help sports teams and specialty merchants more effectively and efficiently sell directly to their fans on a global basis. Our customers drive our business, their success is priority one. We work in partnership with all our customers to help them attain their business goals".
About UniteU
UniteU Technologies, Inc. is a leading provider of on-demand ecommerce solutions delivered thru the SaaS model. The company's ecommerce solutions are designed to help companies of all sizes maximize online revenues as well as reduce the costs and risks of running an e-commerce operation. UniteU has powered startups who reached the pinnacles of top 100 status. The UniteU Connected Commerce platform is PCI compliant and adapts and scales to meet the ever-changing needs of multi-channel retailers; supporting custom designs, integration, rich media, advanced promotions, multiple payment and shipping options and intuitive search and navigation capabilities. UniteU also retains valuable expertise, offering premier managed hosting, web analytics, in addition to e-business consulting and web marketing services that drive traffic, conversions and retention. Go to http://www.uniteu.com to learn more.
# # #