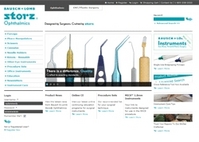 Chesterfield, MO (PRWEB) May 27, 2010
Bausch + Lomb Storz® Ophthalmic Instruments announces the May 5, 2010 launch of their rebranded websites: Bausch + Lomb Storz Ophthalmics and Bausch + Lomb Instruments. The Net Impact, a St. Louis based online interactive agency, redesigned the surgical instrument websites to offer visitors improved usability and a web design that reflects the unmatched quality of the Bausch + Lomb brand.
"We are extremely proud of the results of our recent website upgrades. Our sites now clearly reflect the Bausch + Lomb brand with the new corporate identity. The increased functionality enables us to better serve our customers by making their time spent on these sites more productive and efficient. Helping our visitors find the products they need from the name they trust is a great achievement," said Chuck Hess, Senior Director of Marketing and Sales for Surgical Instruments at Bausch + Lomb.
The Bausch + Lomb brand conveys exceptional quality and a unique set of attributes that set them aside from them their competitors. The new websites' relationship between design and product creates an engaging experience for the user while reinforcing Bausch + Lomb as a credible industry leader in the medical community. The rebranded Bausch + Lomb logo design was created to coincide with the corporate rebranding. In addition, website colors, imagery, design and navigation elements were also updated for corporate consistency.
"The rebranded websites reflect the unsurpassed quality of the Bausch + Lomb brand. The visually appealing and easy to navigate websites are consistent with the company's long-standing professional image," said Mandy Christanell, Project Manager, The Net Impact. "We are very pleased to have had the opportunity to work with such a well respected company in the medical industry."
The new websites' features include enhancements to the ways in which products are displayed and indexed on the sites. Unlike their competitors, Bausch + Lomb's websites pioneer user-interaction. The websites include improved product detail with "click to enlarge" functionality on all product images as well as high-quality product videos. In addition, website visitors can now search for instruments, set-up a wish list and add products to an online shopping cart. The website also displays related product offerings for selected products and the on-site search tool was expanded to incorporate search results from both sites.
About The Net Impact®
The Net Impact, a full-service Internet marketing and web design company, is a division of Unidev®. Since 1997, The Net Impact has been a web development leader empowering clients with highly creative search engine friendly websites. Professional services encompass search engine optimization and Internet marketing solutions, Internet strategy development, training and seminars, social media marketing and design, and web design and development. For more information on The Net Impact, please visit http://www.thenetimpact.com, or call 888.629.4672.
About Bausch + Lomb Storz Ophthalmics
The Bausch + Lomb Storz Ophthalmics line of instruments offers a wide range of surgical products, including a full array of microsurgical instruments for ophthalmology. To help surgeons achieve the best outcomes using their preferred techniques, Storz Ophthalmics produces customized instruments for individual surgeons. Designed by surgeons and crafted by Storz Ophthalmics, these instruments truly enable signature performance. More information is available at http://www.storzeye.com.
# # #