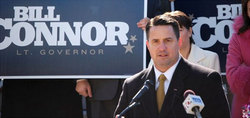 Several things stand out about Bill Connor, 42, in a crowded field seeking the Republican nomination for lieutenant governor, and first among them is this: He has a clear vision for his time in office…
Lexington, SC (PRWEB) May 28, 2010
Bill Connor's campaign for Lt Governor of South Carolina is one of the hottest campaigns in the state this week. First, he's endorsed by the Charleston Mercury, the first newspaper in South Carolina to endorse a candidate, then just yesterday, the Spartanburg Herald-Journal endorsed Bill. Last night Bill Connor followed that up with a win at the Florence County GOP meeting (Ken Ard's own county) with a huge win in the straw poll, garnering 54% of the votes with 4 candidates, including Ken Ard and Larry Richter, in the poll. To top all of this off, RedState.com, one of the country's leading conservative websites, has endorsed Bill Connor for Lt Governor of South Carolina.
From the Spartanburg Herald-Journal
"Several things stand out about Bill Connor, 42, in a crowded field seeking the Republican nomination for lieutenant governor, and first among them is this: He has a clear vision for his time in office…Connor wants to increase the (Office on Aging) even further by leading the charge to make South Carolina a top destination for retirees. He's done his homework on the subject and can quote a raft of statistics on how much economic vitality retirees can bring to the communities in which they relocate and how little they require in the way of services."
"He wants to use the Aging Office as a way to reach out to veterans, wants to see every General Assembly vote recorded and wants to work for the adoption of a Fair Tax and elimination of the state income tax.
"Connor calls himself a "conservative who is not a party guy" and wants to see government leadership move away from career politicians. He believes his leadership and professional qualifications are particularly apt because they have come from outside the political system.
More from the SHJ
"…What (Ard) does not have is Connor's fresh and specific vision for the office and his unique leadership qualifications… It is because of that energy and vision, because of his leadership history and because of his specific plans for the office that Bill Connor deserves to face Democrat Ashley Cooper in November for the office of lieutenant governor."
The endorsement comes on the heels of the Charleston Mercury endorsement announced last week.
"I am very pleased to pick up the endorsement of one of South Carolina's largest daily newspapers," Connor said. "I am pleased that the Herald-Journal spent time closely reviewing our plans to help move the state forward and took the time to conduct lengthy interviews prior to this announcement. As the paper noted, I am the conservative in this race, not the "establishment" candidate.
"I plan to bring the fresh perspective of someone who has not been part of the political system and help reform state government. I will continue to work to end our state corporate and personal income tax, bring in retirees through the Office on Aging, and stand up for accountability in our State Senate."
From RedState.com
"Of all the candidates in the race for Lt. Governor, the one who has stood out for me as different from the establishment has been Bill Connor.
"Connor is a veteran and recipient of a Bronze Star after serving in Afghanistan. Like Nikki Haley, he describes himself as a conservative before he is a Republican."
"Were I in South Carolina, I'd certainly be supporting Bill Connor for Lt. Governor."
Erick Erickson - RedState.com
The campaign has been focused on the issues in regards to the Office on Aging, which the Lt Governor oversees and presiding over the South Carolina Senate. Bill is firmly committed to ruling tax increases out of order as Senate President as part of his plan to protect the taxpayers of South Carolina and has a great plan for his first day in office regarding the Office on Aging.
Bill Connor has also committed to ending the state income tax on military, police and fire retirees as a step toward ending the state income tax as part of his support for the South Carolina FairTax.
Bill Connor has a multitude of endorsements from those statewide including more county GOP chairs and SC executive committeemen than any other statewide candidate, religious leaders, veterans and all four living Congressional Medal of Honor recipients from South Carolina. His endorsements include State Senator Billy O'Dell, State Senator Danny Verdin, State Representative Nathan Ballentine, State Representative Greg Delleney, State Representative Wendy Nanney, State Representative Mike Pitts, State Representative Tommy Stringer, State Representative Mac Toole, Krista Cogdill, former candidate for Lt. Governor, Dr. Henry Jordan, former President, South Carolina Policy Council, former candidate for Lt. Governor, Dean Fowler, Florence County Treasurer. The only candidate in South Carolina endorsed by the Myrtle Beach Tea Party, plus Stand Up SC, Iraq Vets for Congress PAC, Can Do Conservatives, Boiling Springs Tea Party, Union County Tea Party, Citadel Republican Club, America's Independent Party of SC – "Reagan List" and has the support, if not the endorsement of nearly all Tea Party and Patriot groups around the state.
Rita Cosby, three-time Emmy winner, New York Times bestselling author, and author of the new book, Quiet Hero, a story about her father's service in the Polish Resistance, recently noted, "Bill Connor is the kind of man heroes are made of."
The National Defense PAC agreed with Cosby, announcing their endorsement of Connor for Lt. Governor on Tuesday.
"Bill Connor has National Defense PAC's full support for election to the South Carolina Lieutenant Governor's office," National Defense PAC Chairman Rear Admiral (Ret) James Carey stated. "He served our country in America's armed forces, knows military hardships and dangers first hand, and is committed to keeping the promises made to our veterans when they agreed to risk their lives to face America's enemies. He has 'walked in their shoes,' most recently in Afghanistan, and understands what it takes to train, fight and win. Bill shares the values of America's veterans and has learned about sacrifice, courage, decisiveness, and leadership in the most challenging dimension, combat. He has been tested and proven. Bill Connor is the leader we need in South Carolina."
Bill Connor is a Lieutenant Colonel in the United States Army Reserves who received the Bronze Star for his service in combat as the senior American advisor in Helmand Province, Afghanistan. Bill is the first post-9/11 combat veteran to announce and file for South Carolina statewide office, and the only combat veteran running for Lt. Governor. Bill's opponents in the race for Lt Governor are Ken Ard, Larry Richter and Eleanor Kitzman. In addition to his Reserve duties, Bill serves as the Chairman of the Board of Orangeburg Christian Academy. Bill is a graduate of the Citadel and USC Law School.
###