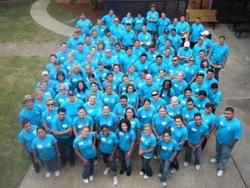 There is a tremendous sense of accomplishment knowing that Gables associates, from all over the country, contributed to making each community served, a better place to live.
Atlanta, GA (Vocus) May 28, 2010
Smiling and brimming with enthusiasm, David Fitch, CEO of Gables Residential welcomed 240+ associates to Grant Park in Atlanta for the annual corporate-wide volunteer service day. With shovels in hand, paint brushes ready, pavers set to be laid and mulch to be spread, associate's began their unique work day ready to make a difference in the historic park . This project is just one of fifteen Gables Day events that were held throughout the country during the week of May 10, 2010.
One day each year, Gables associates participate in a day of giving back to the community. Corporate and regional offices are closed so executives, office staff and onsite property associates can come together to work on a community service project. Essentially, Gables Residential brings the helping hands plus the financial support to purchase supplies and materials that many organizations don't have to complete projects that are desperately needed. The annual event, celebrating its 11th anniversary, is strongly supported by vendors and partners of Gables. Their generosity and donation of materials such as paint, painting supplies, landscape materials and tools has helped us to expand further, increasing the caliber and extent of projects selected.
With a core value of delivering enduring contributions to our local communities, the importance of Gables Day and the community service we provide is truly one of the foundations of Gables. We take pride in the fact that we live our mission of 'Taking Care of the Way People Live'", said Fitch. "By giving back to communities in which we live and operate, we feel as a company we are contributing to improving the quality of life for our many residents and neighbors. It is also a day that our associates can come together and share in the spirit of giving to help those less fortunate."
Each year associates reach out to various organizations to assess community needs. Once a project was selected, the team began outlining specific project details, materials, man power needs and logistics. This year, fifteen projects were selected in each of the markets served by Gables Residential. Projects are chosen based on the impact that can be made in each of the communities where Gables has a presence. Ideally, the projects chosen will benefit those that live in the area, making the community a better place to live, while helping those who need assistance. This year's projects included a shelter for women and families, a housing neighborhood in an underserved area, multiple parks and recreation centers that serve children and families as well as several food banks. The work provided primarily consisted of painting, cleaning, landscaping, and repairing facilities, as well as sorting thousand of pounds of donated food for the hungry. Many of Gables associates commented that the annual event is their favorite day of the year. "In many respects, our associates take great pride in giving back to their community." said Sue Ansel, Chief Operating Officer and Executive Vice President of Gables Residential. "There is a tremendous sense of accomplishment knowing that Gables associates, from all over the country, contributed to making each community served, a better place to live."
Communities and organizations served include Grant Park Conservancy, Atlanta, GA; Boys and Girls Club of East Austin, TX; People Helping People and the City of Dallas Housing Authority, Dallas, TX; Hillcrest Recreation Center, Washington, D.C.; Pine Grove Park, City of Delray Beach, FL; Denn John Park, City of Kissimmee, FL; Star of Hope shelter for women and families, Houston, TX; San Diego Food Bank, San Diego, CA; United Food Bank of Phoenix, AZ; Cougar Mountain Zoo, Seattle, WA; Murden Point Park, Virginia Beach, VA; Feed My Starving Children, Chicago, IL; Explorer School, Brooklyn, NY; Porter-Leath House, Memphis, TN; and Word of Jesus Christ Worship Center, Holbrook, NY.
This year, the Gables Day event brought together 1,174 associates who volunteered over 7,113 hours of community service. For more information about Gables Day and for future project consideration, please contact marketing@gables.com or visit http://www.gables.com
About Gables
Gables Residential is a privately held REIT owned by a closed-end fund managed by a joint venture between ING Clarion and Lehman Brothers. With a mission of Taking Care of the Way People Live, Gables Residential has received national recognition for excellence in the management, development, acquisition and construction of luxury multi-family communities in high job growth markets. Gables Residential owns, develops and manages multi-family communities and mixed-use developments in Atlanta, Austin, Dallas, Houston, South Florida, Southern California, and metropolitan Washington, D.C. Additionally, it has third-party management operations in the Chicago, New York, Boston, Phoenix, Central and North Florida, and Washington State markets. Gables Residential enjoys a healthy portfolio with approximately 38,000 apartment homes under management, including a corporate-owned portfolio of 57 communities comprising approximately 14,500 apartment homes. An additional 6 communities are under construction/lease-up, comprising approximately 1,400 apartment homes. Gables also has the ability to develop another 4,000 apartment homes through its shadow pipeline of undeveloped land owned. For more information please visit http://www.gables.com.
# # #