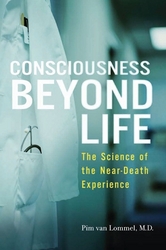 Pim van Lommel shows that the symphony of human consciousness... continues and also remains accessible in the nonordinary states of consciousness that in our culture occur most frequently at the portals of death. — Dr. Ervin Laszlo
San Francisco, CA (PRWEB) May 31, 2010
CONSCIOUSNESS BEYOND LIFE (June 2010; HarperOne) is the first in-depth analysis of the science behind the Near-Death Experience. Arguing against the current materialistic view of the relationship between the brain and consciousness held by most physicians, philosophers, and psychologists, Pim van Lommel says that our consciousness does not always coincide with the functioning of our brain.
In his work as a world-renowned cardiologist, van Lommel was no stranger to death. Yet what continually surprised him was the amount of patients who claimed to have had a Near-Death Experience (NDE). The phenomenon so intrigued him that he became the first medical practitioner to risk his reputation with a full systematic trial into the phenomenon. Upon interviewing 344 of his heart patients who had clinically died, some for five minutes or longer before being resuscitated, sixty two, or 18%, reported some ongoing experience after the medical monitors had pronounced them to be dead. Half were aware that they were "dead," and fifteen had out-of-body experiences where they were aware of the actions of the hospital staff around their body.
CONSCIOUSNESS BEYOND LIFE reveals Near-Death Experiences to be authentic occurrences which cannot be reduced to the imagination, psychosis, or an oxygen deficiency.
Including:

A detailed report of a person who experienced an NDE during childbirth and the impact it had on her life
A comprehensive account of the twelve universal elements of an NDE
The positive life changes that can result after an NDE that lasted only a few minutes
An in-depth analysis of near-death experiences in children, who recall the same NDE elements as adults
Since his initial study of Near Death Experiences, which was published in the prestigious medical journal The Lancet, Pim van Lommel has resigned his post as a practicing cardiologist to devote his time to further research and lecturing all over the world on Near-Death Experiences. He regularly speaks in North America and has appeared on ABC Discovery.
CONSCIOUSNESS BEYOND LIFE
The Science of Near-Death Experience
by Pim Van Lommel
HarperOne, an Imprint of HarperCollins Publishers
June 2010 | $26.99 | Hardcover | ISBN: 9780061777257
# # #