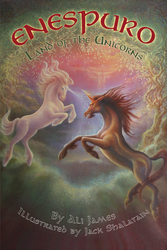 Pittsburgh, PA (Vocus) May 27, 2010
Enespuro: Land of the Unicorns by Ali James has been released by Dorrance Publishing Co., Inc
Given to Pegasus by Zeus, Enespuro is the magical land of the unicorns, where the pure ones live in peace away from the dark ones. Usually a calm and docile land, the young ones spend their days cantering in the meadows, while the adults wade by the waterfall and watch over the herd. But now, with the fulfillment of the prophesy of Ambrogino, the little immortal one who can destroy the dark ones forever, Enespuro is buzzing with excitement for his arrival from the sacred land.
When the dark ones intercept him on his way home, the pure ones must do everything they can to get their immortal one back from the evil Thanis, who will use him to wipe out their herd. Can the pure ones come together with the courage to overcome evil and save not only Ambrogino, but the whole herd?
Ali James was born and grew up in Somerset, England. She graduated from King Arthur's Community School, Wincanton. She now lives happily in Dorset, England, with her son, Steven.
Jack Shalatain brings his signature style to picture Ms. James' charming tale. His visionary approach to the unicorns and their land is garnered from his own inner worlds which are populated by knights and maidens, angels, mermaids, fairies and of course unicorns. This whole other world is visible online at http://www.shalatain.co.uk
Enespuro: Land of the Unicorns is a 72-page paperback with a retail price of $9.00. The ISBN is 978-1-4349-0228-3. It was published by Dorrance Publishing Co., Inc of Pittsburgh, Pennsylvania. For more information, or to request a review copy, please go to out virtual pressroom at http://www.dorrancepressroom.com or our online bookstore at http://www.dorrancebookstore.com.
# # #