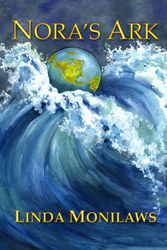 Pittsburgh, PA (Vocus) May 27, 2010
Nora's Ark by Linda Monilaws has been released by Dorrance Publishing Co., Inc
During the Bush administration, the United States cultivated an attitude of arrogance, which led to ill-advised policies and tarnished the country for future generations. The next president offers a message of hope and rebirth, but she is silenced by an assassin. Chaos becomes the rule, and our nation falls into crime-fueled ruin.
Amidst the anarchy, a young woman named Nora has a plan. She works to subvert the system, to empower the women of the world, and to ensure a future for the human race. She has a secret past that both inspires and endangers her. When she meets David Gibbs, the son of a prominent Congressman, she is ready to put her plan into action.
Join Nora, David, and the rest of their companions on a journey to create the future we hope to leave for our children. Weaving themes of history and feminism, Linda Monilaws creates a thought-provoking story for our times—a warning for what may lie ahead, and hope that in each of us lies the ability to turn the tide.
A resident of Boulder City, Nevada, Linda Monilaws aka Henry is a retired member of the Southern California Business Communicators and WGA West and was Senior Writer for Muscle & Fitness. Her hobbies include politics, travel, and ethnic cooking.
Nora's Ark is a 194-page hardcover book with a retail price of $19.00. The ISBN is 978-1-4349-0501-7. It was published by Dorrance Publishing Co., Inc of Pittsburgh, Pennsylvania. For more information, or to request a review copy, please go to our virtual pressroom at http://www.dorrancepressroom.com or our online bookstore at http://www.dorrancebookstore.com.
###