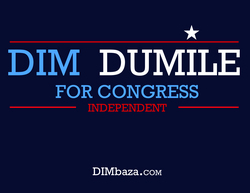 I'm very comfortable addressing luminaries, But on the stage, and speaking before a live audience, with a podium, is where authentic connections are made
Long Beach, NY (PRWEB) June 1, 2010
Independent candidate Dimbaza Dumile has launched an exploratory committee in support of his interest in running for Congress in New York's 3rd district.
"I'm very comfortable addressing luminaries," explains Long Island-born Dimbaza, who assisted Dr. Rashmi Mayur, PhD, Director of a United Nations affiliate organization, where he toiled as an assistant and Thinker in 2001.  "But on the stage and speaking before a live audience with a podium is where authentic connections are made." In a short few years Dimbaza has developed as a leader, writing and delivering speeches, including a very well received speech at Dr. Rasmhi Mayur's Memorial Ceremony at the U.N. Church Building across the street from the United Nations, in front of Dr. Mayur's friends and family.  After a short sabbatical, Dimbaza knew that he needed to resurface. He trained with world renowned fitness expert Dr. Gary Null, PhD, completing the New York City Marathon in 2007, in pursuit of athletic passions. In the following year, out of concern for his constituency, he contemplated a run for Congress in 2008, watched from the sidelines, and reconsidered.
In late 2008, Dimbaza was recruited by The Department of State in Washington DC, to work for the Obama Administration, under Secretary of State Hiilary Clinton, joining their team of Thinkers, as a Fellow. During the 9-month period that proceeded, he spent his time as a staff member with the New York Yankees, where he worked with Manager Joe Girardi, as well as professional athletes, Derek Jeter, Alex Rodriguez, Jorge Posada and Mark Teixeira, to achieve the goal that they were envisioning at the beginning of the season -- becoming the 2009 champions of baseball. Aside from the proprietary duties, which included, occasionally, directing the guests into their seats, his imaginative mind remained abuzz, conceiving solutions and forging lasting relationships.
Riding the wave of his baseball championship with New York, Dimbaza decided to turn his focus back to the ailing political scene. With Representatives proliferating madly in districts across our country and infiltrating the mainstream via TV talk shows, he couldn't have emerged at a more propitious time.  But New York's impromptu leader, who makes up his core beliefs of environmental sustainability, is swimming against the tide of outdated environmental standards, immigrant worker rights and congressional bipartisanism, in his quest to take Congress to a new, more substantial, more nationally significant destination. Dimbaza is a devout Christian, and is currently touring and showcasing his message to audiences. His topics range from woman and girls advocacy, to veterans affairs programs. As a suppliant to The Department of State, in Washington DC, he is currently awaiting confirmation by the heads of offices there, where his assignments are international in scope, with world implications. His following is growing rapidly, drawn to his natural stage presence, a voice that touches your soul and gets your attention, and solutions that are universal in their humanity and effectiveness.
# # #