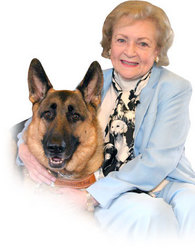 "We deeply appreciate that Betty White is helping Actors and Others for Animals put the spotlight on the importance of spaying and neutering companion animals." Susan Taylor, Executive Director Actors and Others for Animals
North Hollywood, CA (PRWEB) May 27, 2010
The following statement was issued by Betty White on behalf of Actors and Others for Animals:
I am deeply flattered to say the least with all of the wonderful attention I have been receiving lately. It certainly makes me feel like one lucky old broad!
But you know who isn't so lucky? All the beautiful and innocent animals who are killed every day because there aren't enough homes. That's why having your pets spayed or neutered is so very important. It stops the breeding cycle, helps eliminate the birth of unwanted animals and provides health benefits to boot!
Since its inception I have been a member and supporter of the animal welfare organization, Actors and Others for Animals, and am pleased to serve on their Board of Directors. They are guided by a mission to end the tragedy of pet overpopulation through financially subsidizing spay and neuter surgeries for pet guardians in need.
Please join together with me and my dear friends at Actors and Others for Animals to stop pet overpopulation. If all of you wonderful people out there who have made me so popular on Facebook would send in just $1.00 each, next year when Actors and Others will be observing their 40th Anniversary, they will use those funds to celebrate by sterilizing as many pets as possible for free with a promotion dubbed "Betty's Bucks for Balls Spay/Neuter Campaign."
So to all of my old and new fans who have enriched my life so much with all of your love and encouragement, won't you please join with me in a life-saving campaign to help all of the pets who share our homes and our hearts.
-Betty White
Actors and Others for Animals is a California-based, registered 501(c)(3) non-profit organization, serving the greater Los Angeles area and surrounding counties since 1971. Please visit their website at http://www.actorsandothers.com to make your donation to "Betty's Bucks for Balls Spay/Neuter Campaign." Every donation, whether $1.00 or more, will have an impact on the life of an animal. We thank you for your support and so does Betty.
###