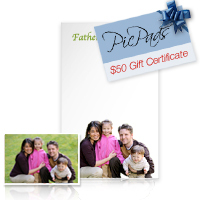 "I want to show appreciation for the big and the little things dads do everyday." Laura Eiman, PicPads Founder
Pocono Lake, PA (PRWEB) May 27, 2010
PicPads is pleased to announce that the PicPad's MVP Father of 2010 will be awarded on June 17, just in time for Father's Day. The Winner will be selected from five Finalists. Nominations are open to everyone and the public is invited to vote. The Grand Prize is a $50 PicPads Gift Certificate. All Finalists will receive a set of color PicPads featuring their submitted photo.
In honor of all the great fathers, PicPads founder Laura Eiman created this special award as a way to "show appreciation for the big and the little things dads do everyday. Whether it's your own father, or a husband, brother, friend or colleague, we've all seen men step up to the plate and make a difference in our lives. Some men are awesome storytellers, some go to every soccer game and some make us laugh. We are just happy we know them."
Five finalists will be chosen by an expert panel. Judging will be based on a photo and description as to why this particular father inspired the nomination. The winner will be decided by public vote on picpads.com. Registration for photo nominations are being accepted on picpads.com/photocontest.php.
In 2009, PicPads held a similar photo/caption contest inspired by Summer. Contestants were asked to submit photos which answered "what does summer mean to you?" Over 100 photographs were submitted and the photos are still available for viewing on picpads.com.
With a variety of products under $50, PicPads are a perfect way to personalize your correspondence or to create a custom-made gift. PicPads can be ordered 24/7, for anyone on budget and with limited time on their hands. PicPads also offers volume discounts to corporations, non-profits, schools, and resellers. PicPads are an effective marketing tool that can be used for fundraising, creating brand awareness, or promoting an event.
The exceptional paper, advanced printing process, expert packaging and economical prices make PicPads high-quality gifts with widespread appeal that have even been used by Oprah Winfrey and Rachael Ray, who said "I think they're absolutely fabulous. Look at this one, I use it for grocery lists, it's my Isaboo, isn't that great?" on The Rachael Ray Show, December 13, 2007. PicPads are easy to order online at http://www.picpads.com.
###