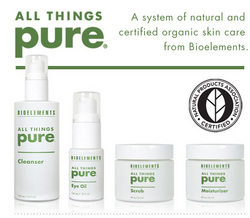 New! A system of natural and certified organic skin care from Bioelements.
Chicago, IL (PRWEB) May 27, 2010
Bioelements professional skin care announces the new All Things Pure™ line, four products with all-natural ingredients. The Bioelements professional skin care line has always featured products with organic and natural ingredients, but it also utilized the best high-tech ingredients, including cosmeceuticals. The new All Things Pure line eliminates science-based lab ingredients in favor of purely natural ones. The line was designed to offer skin care products to eco-conscious consumers who have a desire for all-natural products. It is for the "purist" who wants the best but will not compromise her all-natural preference. In fact, the products are so good the entire line was awarded the much-coveted Natural Products Association Seal!
How All Things Pure Is Different
The chemists at Bioelements were determined to develop high-level products that met the toughest criteria in the natural products realm, but also work, feel and produce results that rival their traditional counterparts. All Things Pure is true to its name. Organically grown ingredients are used wherever available, all ingredients are from natural plant and mineral sources, and each ingredient has a specific skin care benefit. All four products also contain totally natural preservatives, and are packaged in glass for maximum freshness and recyclability.
All Things Pure™ Cleanser - Lathering facial wash formulated with natural clay to unearth pore-clogging impurities. Soap and sulfate-free.
All Things Pure™ Eye Oil - Emollient-rich blend of organic plant and essential oils carefully balanced to help strengthen the skin's barrier layer and conserve natural moisture. Can be used around eyes or on entire face.
All Things Pure™ Scrub - Curative Chinese grains blended into certified organic oils scrub away dead, dulling cells. The grains then melt into surface skin layers releasing nourishing and exfoliating extracts.
All Things Pure™ Moisturizer - Smoothing moisture cream blends organic emollients with plant nutrients to lock-in hydration and create the ideal environment for healthy, younger-looking skin.
Bioelements Contact
Callie Lushina | 773.525.1862 x 509
bioelements.com | facebook.com/bioelements | twitter.com/bioelements | skinreading.com
About Bioelements
Bioelements professional skin care was launched in 1991 and is used and retailed in more than 3,000 spas worldwide. The product line is relied upon by estheticians, dermatologists and consumers for its precise dedication to understanding the skin and its unique custom blending of retail and professional products. The brand is a pioneer in the skin care industry and continues to meet the ever-changing needs of the skin care professional.
###