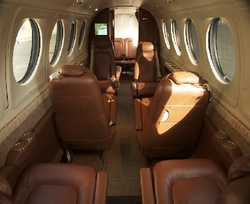 We did not simply want to redo the paint and interior. We wanted to redesign everything and make it new
Farmingdale, NY (PRWEB) May 29, 2010
Talon Air, Inc., a worldwide leader in private aircraft management and luxury private air charter, announced today that it has reinvented its beautiful state-of the-art Collins Pro Line 21 Beechcraft King Air B200 turbo prop just in time for the 2010 summer season. With a customized new paint job, new interior, new entertainment system and passenger avionics upgrades, the only thing returning passengers will recognize is the registration number N299AK.
Painted in Wichita, Kansas by Hawker Beechcraft the private aircraft now sports the Talon hawk head on the tail. While in Wichita, Global Aircraft Interiors changed out the cockpit and passenger compartments. The new interior matches the current 2010 production line, the leather, upholstery and woodwork were all replaced. Airborne Avionics focused on the cabin electronics creating a truly unique entertainment center. Passengers are now able to stay connected and may enjoy some of the same electronic amenities that they enjoy on the ground. This is the first King Air 200 to have the Airshow 4000, BlackBerry e-mail service, a Sat phone, XM radio and custom iPod dock. This custom cabin electronics package creates a seamless transition from the office or home to the aircraft.
"We did not simply want to redo the paint and interior. We wanted to redesign everything and make it new." said Jason Sanders, Senior Vice President. "Talon has become known for our service, beautiful aircraft and passenger amenities. We have taken the passenger electronics we install on our business jets and put them in the King Air turbo prop. It's all about the passenger experience."
The King Air 200 is the most popular executive turbo prop of all time. This redesigned aircraft has it all. From the winglets that provide increased efficiency to the wing lockers that provide extra storage. If your are transporting your executive team to an important client meeting or just getting away from it all, this 9 passenger aircraft is ready to transport you there. To learn more about our services or request a private charter quote on this aircraft, visit http://www.TalonAirJets.com
About Talon, Air Inc.
Founded in 2001, Talon Air is a boutique aircraft management company providing luxury private jet charter flights and maintenance services. Headquartered at Republic Airport (FRG) in Farmingdale, New York, Talon Air, Inc. is located in a brand new state of the art 95,000-sq-ft hangar and office complex. With the addition of new private jets and turbo prop aircraft to its fleet, Talon continues to be an innovator in the industry delivering an unparalleled level of consistency and customer service. The vertically integrated fleet includes the Sikorsky 76B Helicopter, King Air B200, Hawker 400XP, Hawker 800XP, Hawker 900XP, Hawker 4000, Challenger 300, Legacy 600, Challenger 604 and Gulfstream IVSP private aircraft. All of Talon Air's ATP, FlightSafety and CAE SimuFlite trained pilots and factory trained A&P mechanics are Talon employees and maintain the highest safety ratings available. Talon Air, Inc holds the highest safety ratings of Wyvern Wingman, ARG/US Platinum and an IS-BAO Certification.
###